Finding A Place
West Ashley Tournament Honors Tennis Pioneer Harold Smith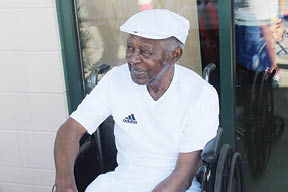 Harold Smith is a pioneer in the local tennis award. An annual tournament named after him is held at St. Andrew's Parks & Playground.
October 4, 2017
By Bill Davis | News Editorl
Two weeks ago, the view at the Harold Smith Classic tennis tournament at St. Andrews Parks and Playground was exactly the way Harold Smith would want it to look.
While all the players were dressed in all-white, their faces were every color under the sun. Black, white, brown, green and a mix of all of the above. And players hailed from every corner of the Lowcountry, and beyond.
Every year since 2002, the Charleston tennis community has held the tournament to honor Smith, 88, the man who quietly forced the city to integrate its tennis courts. And in doing so, ended up teaching and inspiring generations of locals.
Smith had been a champion diver at Hampton University, a private historically black school located in Virginia which counts Booker T. Washington as an alum and former faculty member.
But when the Burke High graduate returned home to 1950s Charleston, Smith decided he wanted to learn tennis. So, he and some friends went down to what is now the municipal Jack Adams Tennis Center located on Congress Street behind the end zone of The Citadel's Johnson Hagood Stadium.
In a 2002 article in the Post & Courier, it was reported that he "would remain on the court until he was finally allowed to play in peace."
Well … that's not how Kenneth Funderburk remembers it:
"It was the late 1950s, and Mr. Smith and his friends went to Jack Adams to hit on the tennis court and were told by law enforcement that they were 'in the wrong place and time,' and the officers forced them off the court," says Funderburk, who founded the honorary tournament in 2002.
Funderburk, 64, has been a professional tennis teacher for more than three decades, and now resides in Atlanta.
He said Smith took the path of most resistance by contacting the state NAACP and began meeting with the city. "They told him he and his friends could play on basketball courts in their neighborhoods," says Funderburk.
Smith persisted and it lead eventually to the integration of Charleston's tennis facilities. Funderburk says he wanted to honor Smith with the tournament: "I just wanted to say thank you for the game we still play to this day."
As such, Funderburk successfully lobbied the city to dedicate one of the courts at Jack Adams to Smith. Even more honors came when MOJA, the annual festival featuring African American and Caribbean artistic expression, included the tournament as an official part of its event.
Smith touched the early tennis life of Phillip Burke, who now hosts the tournament as the head of tennis at St. Andrews. His younger brother, Brian, who brought it to West Ashley when he held the same job in 2005.
Burke says that the reason why the diverse tournament maintains an all-white dress code is a reflection of Smith, too. "He's a traditionalist, and if it's good enough for Wimbledon, then it's good enough for the Harold Smith Classic," says Burke.
Burke, who took lessons from Smith when he was a kid, strives to keep St. Andrews as open and welcoming to as many players as possible, regardless of their wealth, color, or playing ability.
Christine Bozigar played her first ever match three years ago at the tennis classic. Now a tennis-crazed player on several teams throughout the year, Harold Smith was a perfect fit for her.
"Now, I keep coming back for a few reasons," says Bozigar. "One, the fact that it is at St. Andrews where I play means I want to support every tournament there. Two, I like the dress code: all white, very classic and everyone looks lovely."
"And third, and these are not in order per se, while I didn't know anything about [Smith] at the first tournament, I want to support him and his cause that he fought for now that I do," she says.
Dee Mack tells a similar story, having also played her first competitive match at St. Andrews, but 20 years before. Mack took up tennis there originally so she could learn to keep score at her daughter's middle school league matches.
"The Harold Smith Classic is the best, and I love that it's part of MOJA's slate, as far as the history of his efforts are concerned," says Mack.
Mack serves on the board of the local tennis association, and on Friday was driving back from Columbia where she attended a regional tennis workshop on how to attract more into tennis in our community.
For Mack, she wants to help expand the diversity of tennis in the Lowcountry from "sports and competition to everyone's fitness, health and wellness."
Bradley Smith (no relation) can't stop helping out at St. Andrews. The first morning of the tournament, Smith, who was a competitor this year again, had taken up his usual spot behind the computer where all the players and doubles teams register.
"First of all, St. Andrews is very near and dear to my heart because it's where I learned to play tennis," Bradley Smith says of why he passes up facilities closer to his James Island home. "They just do not have that open, welcoming, friendly vibe to them … and this is one of the most diverse tennis communities in the area, and that matters to me."
Bradley Smith, who is white, has since joined the black West Side Tennis Club, which Mr. Smith was instrumental in forming ages ago. He now travels to other black clubs' tournaments and hopes to expand attendees at next year's classic to include players of color from Columbia, Charlotte, and even Atlanta.
"I would love to see the tournament grow and somehow attract those people," says Bradley Smith.