Draft Master Plan Out Of Character For West Ashley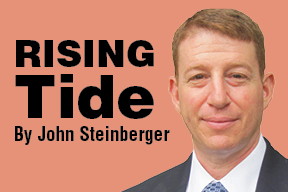 September 21, 2017
By John Steinberger | Contributing Writer
Consulting firm Dover Kohl recently released its first draft of the West Ashley Master Plan, a project that began in January. The draft envisions a West Ashley in which most residents live in apartments and get around using mass transit, walking or riding bicycles. It completely ignores West Ashley's suburban character.
The plan is intended to be a blueprint for future growth and development in West Ashley and addresses areas such as land use, transportation, infrastructure, economic development and housing. It will be reviewed and amended by the 19-member West Ashley Revitalization Commission (WARC). If the WARC approves the plan, it will be reviewed by the City of Charleston Planning Commission and voted upon by the Charleston City Council as early as January 2018. Many of the projects envisioned will require input or approval from Charleston County Council, the South Carolina Department of Transportation and the Charleston Area Transportation Study Committee.
Dover Kohl is a firm noted for following the principles of New Urbanism. The draft report is loaded with New Urbanism buzz phrases, such as "sustainability", "active transportation", "mixed-use centers", "urban core", "mobility hubs" and "affordable housing." The consultants for Dover Kohl are very smart, professional and friendly, but their world view is not a good fit for the community.
The vision which encapsulates the 258-page report is a drawing of Citadel Mall without a parking lot. What is now the mall parking lot is shown with hotels, apartments and a convention center. I can't foresee a West Ashley in which everyone walks, bicycles or takes the bus to go shopping.
The best part of the planning process is that it engaged thousands of residents and business owners throughout the community. More than 1000 people attended workshops in April and May. The project website PlanWestAshley.com had more than 7800 unique visitors. The workshops were interactive, allowing participants to answer survey questions using clickers. The process indicates that people really care about the future of West Ashley.
Survey data indicated that 96 percent of participants use motor vehicles as their primary source of transportation. Their primary word descriptions of West Ashley's today were "congested" and "traffic".  Their vision descriptions for West Ashley in the future are "connected", "vibrant" and "community".  There were many comments during the workshops about the need to upgrade the community's image.
There were many ideas expressed in the report that I embrace whole-heartedly. There are proposals to upgrade our aging shopping centers and re-develop abandoned ones, such as Church Creek Plaza, which could adopt the Avondale model of popular coffee shops and restaurants. The draft plan promotes the concept of tree-lined streets and beautiful landscaping. There is an excellent section on drainage, calling for upgrading parks with more absorbent plants, using porous paving materials, planting more trees, creating plant buffers near waterways, and restoring wetlands. It also expresses the need for more office space in West Ashley.
A big question that the community must address is how to pay for the suggested changes. Many road projects are already being addressed by the $2.1 Billion transportation sales tax approved by voters in 2016. Do we want to use a large portion of that money on a Bus Rapid Transit system or light rail, which residents may not use? There is also a Tax Incremental Finance District, which can be used for upgrades along the Sam Rittenberg corridor. The City of Charleston should also allocate a portion of the 2 percent restaurant tax revenue for West Ashley projects (the $15 Million in annual revenue currently goes 100 percent to downtown Charleston).
Since the money available is limited, elected officials must prioritize. Drainage studies for the Dupont/Wappoo area and the Church Creek basin are underway. The cost for the vital drainage projects will likely exceed $100 Million. Tropical Storm Irma caused flooding in hundreds of homes, most of which have been damage three times since 2015. That should be the top priority before millions are spent on bike paths.
The draft West Ashley Master Plan gives us a good starting point to determine the future of our community. Let your elected officials know what you want West Ashley to look like.
John Steinberger is the editor-in-chief of LowcountrySource.com. To contact him, email John@LowcountrySource.com.