Doing Things The Right Way
Local "Catering hero" Jamie Westendorff has an appreciation for Southern Classics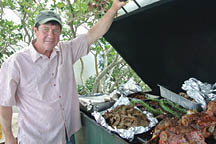 December 14, 2017
By Rachel Castejón | Contributing Writer
When the folks over at the non-profit Camp Happy Days called him a "catering hero" in a recent West Of article, we knew we needed to look into Charleston native and long-time local caterer Jamie Westendorff a little more.
Having made his first food and beverage industry contacts as a gas pipefitter and a plumber in local restaurants, literally working under some of the great Charleston chefs (as Westendorff said, "under the building"), he was inspired to open Charleston Outdoor Catering in 1980 with former business partner Bobby Smith.
Westendorff now operates the business as the sole owner. Although his shop and his home are in West Ashley, Westendorff can be found all over the Lowcountry setting up and cooking for some of Charleston's biggest events, including the Boone Hall Oyster Festival and Taste of Charleston.
And it's a good thing he is used to big events as Westendorff also runs the mess hall every summer for all the children at Camp Happy Days, a free camp for children battling childhood cancer. He donates his time and food and dubs the West Ashley-based charity his favorite to work with, due to the interaction he gets to have with the kids.
To the point, Westendorff doesn't dwell on any "good deeds" he has done. If he hadn't been asked specifically about his philanthropy, it's doubtful it would have come up in this interview. Instead his longer responses dealt almost entirely with oyster roasts, fish fries, Frogmore stews, and his favorite type of catering to do, local seafood, red rice, Killer Green Beans (so famous they only need go by the moniker "K.G.B."), and slaw.
Most of Westendorff's catering offerings could be found on any traditional Lowcountry menu, however, he also offers specialty caterings that include lobster, Mexican dishes, and Hawaiian luaus.
"I remember a much simpler Charleston… I have fond memories of that time before there were 80 ways to make shrimp and grits," says Westendorff refecting on a less celebrated Charleston F&B scene from days gone by.
And while his day-to-day life is filled with booking, billing, cooking, ordering food, and going to his events, Westendorff's still manages to sprinkle in a bit of down time during the hot summer months when business is a little slower. When asked about future plans for the business his only response was "to stay healthy and work as long as possible."