Dia de los Muertos
Mex 1's Day of the Dead Celebration includes Live Music,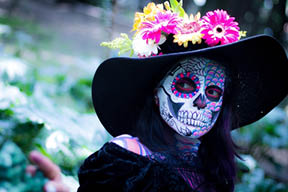 November 2, 2017
From Staff Reports
Face Painting, and Award-winning Cocktails
Day of the Dead (Spanish: Dia de los Muertos) is a Mexican holiday celebrated throughout Mexico, in particular the Central and South regions, and by people of Mexican ancestry living in other places, especially the United States. It is acknowledged internationally in many other cultures. The multi-day holiday focuses on gatherings of family and friends to pray for and remember friends and family members who have died, and help support their spiritual journey.
Mex 1 Coastal Cantina on St. Andrews Boulevard gets in the spirit of the holiday by hosting a Dia de los Muertos party on Thursday, Nov. 2. Enjoy Day of the Dead face painting and live music from Jaykob Kendrick at West Ashley. There will be $3 drafts of Pacificos, Negra Modelos, Victorias, and $5 Exotico Margaritas all day.
In addition to the drink specials, Mex 1 will be offering the two beverages created by their staff that are among the four finalists in the 2018 CHS Wine + Food Official Cocktail Competition being held as part of the Souls + Saints: Dia de los Muertos event, on Wednesday, Nov. 1.
Morgan Hurley, MEX 1's Beverage Director, created "A Noble Hospitality," featuring Don Julio Reposado tequila, Aperol aperitif, Punt e Mes vermouth, Pineapple Juice, Vida Mezcal (rinse), and dehydrated orange (garnish). Sullivan Island Bar Manager Shannon Standhart came up with "MisBEEhavin," which features Don Julio tequila, Barenjager honey-flavored liqueur, agave nectar, and lemon zest & sugar on the rim. Both cocktails will be available at MEX 1.
 Mex 1 is located at 817 St. Andrews Blvd. For more information, call 751-4001 or visit www.mex1coastalcantina.com