Creek To Table
Middleton Oyster roast focuses on shellfish and spirits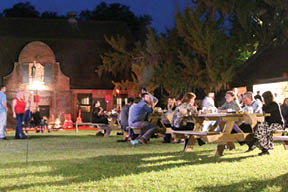 February 16, 2017
From Staff Reports
Middleton Place will be at the forefront of the culinary action in Charleston this Saturday, Feb. 18 when it hosts an oyster roast in the Plantation Stableyards. The event, which will bring awareness to the Heritage Breeds program at Middleton Place, will be unique on several levels, starting with its setting around glowing fires amid the picturesque surroundings of this National Historic Landmark.
The Restaurant's new smoker will churn out fire-roasted St. Jude Farms oysters and smoked Manchester Farms quail breast with roasted vegetables from the Middleton Place Organic Farm. Also enjoy a Lowcountry Boil with sweetgrass mussels and Combahee River clams from the nearby ACE Basin as well as roasted wild boar and smoked rabbit ragù with a pappardelle pasta.
Select wine and craft beer will be available. Plus guests will enjoy specialty cocktails created from Dixie Vodka, an all-American craft vodka available only in the Southeast, and Chicken Cock Whiskey, perhaps most famous as the house whiskey at Harlem's famed Cotton Club.
Also on hand for the evening will be famed Master Bladesmith Quintin Middleton, whose knives are prized both for their beauty and their utility by some of the top chefs in the world. Entertainment will be provided by The Bluestone Ramblers, one of the area's most popular bluegrass bands. Artisans in the Planation Stableyards will be demonstrating their trades throughout the evening..
Tickets for the Oyster Roast are $65 per person – beverages and food are all inclusive. For reservations, call 843-266-7477 or visit www.middletonplace.org.