Comedy and Curls
Tin Roof hosts An evening of comedy and film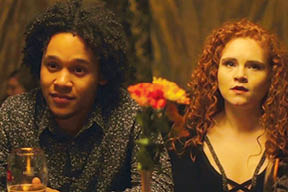 July 6, 2017
From Staff Reports
"Every relationship has a few split ends" is the subtitle to real life couple Fray Forde and Catherine Dee Holly's new romantic comedy short film Good Hair, in which a conditioner bottle sets a chain of hilarious events.
Not to be confused with the 2009 Chris Rock documentary by the same name, Forde and Holly's Good Hair has been screened to more than a dozen sold out crowds across the southeast as part of the couple's unique Comedy & Curls show, which combines stand up comedy from the top comedians in the Southeast, audience giveaways from Atlanta hair care sponsors House of Cheatham, and an exclusive screening of Good Hair. On Saturday, July 8 Comedy and Curls comes to West Ashley's Tin Roof.
Good Hair begins when Frankie (Holly) learns that her boyfriend, Khi (Forde), has used all of her conditioner on the first day of her new promotion. As the day progress, Frankie's bountiful red, curly hair grows wildly untamed and so do her feelings toward Khi. This tiny conditioner argument opens the door to larger problems in their relationship: financial worries, job insecurity, and fear of the future.
Good Hair has received great festival recognition at the Atlanta Shorts Film Festival, Macon Film Festival, Emerging Lens Film Festival, Southern Margins Film Festical, Cat Fly Indie Film Fest, and The Monthly FIlm Festival.
Fray Forde and Catherine Dee Holly's romantic comedy short film Good Hair will be screened as part of Comedy and Curls on Saturday, July 8 at Tin Roof, located at 1117 Magnolia Road. For more information, call 571-0775 or visit www.charlestontinroof.com