Come and See
Inspiring religious duo Cring & Clazzy perform in West Ashley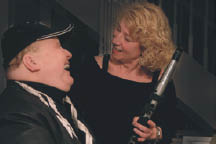 December 19, 2017
From Staff Reports
Stirring together the ingredients of music, humor, stories, and singing, the duo known across the country as Cring & Clazzy will be performing their show Come and See at 10 a.m. on Sunday Dec. 31. at the Saint Andrews United Methodist Church, located at 3225 Ashley River Road.
Jonathan Cring, a composer, singer/songwriter, international blogger, and screenwriter, has created a worship service, calling the church to revive the better parts of the faith, celebrating the stories, such as the Sermon on the Mount and the sacrifice of Jesus.
Janet "Clazzy" Scott is an oboist, composer, and skilled on the Yamaha WX-5 Wind Machine, a horn producing the sounds of 250 different instruments.
Fore more than 20 years Cring & Clazzy have been leaving audiences laughing and crying. And their most recent homage, Come and See, mingles current insights and discovery with the ministry. With musical stylings ranging from Dixieland to Broadway to folk rock and even remnants of rap, Come and See is an inter-generational, entertaining musical and theatrical journey.
"I've always believed that the key to communication is to edify, so that people are glad they allowed themselves to become involved," says Cring. "Art with heart should never be heavy-handed. It should always use the gentleness of the fingertips, not the power of the fist."
The best part about Come and See is that Cring and Clazzy are performing it for no charge to the public. "I'm so grateful for the opportunity to come to the area to present a piece of quality material that might cost $100 a ticket on Broadway, but can be enjoyed by a good set of ears for a free-will offering," says Clazzy.