City Must Find Courage to Stem Growth of Hotels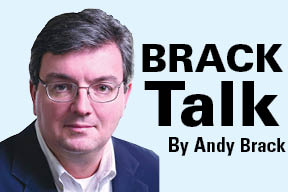 April 20, 2017
By Andy Brack | Contributing Writer
It's pretty sad — and kind of amazing — that a 10-year-old can reach a common-sense conclusion that seems to elude a majority of Einstein members of Charleston City Council and its planning commission.
"Daddy, we don't need any more hotels," my daughter said while looking recently at the skyline pollution of crane after crane.
No, honey, we don't. What we need are city leaders who will start listening and thinking about the continuing glut of hotels and what greed to build more will cause down the line.
It's pretty simple economics, as highlighted in a 2016 hotel study done by the city about the peninsula. As of May 2016, there was one hotel room for every seven people who lived on the Charleston peninsula. The study showed there were 4,930 existing hotel rooms or those under construction in 45 properties as of June 16, 2016. At the same time, 10 hotel projects that had received zoning approval, but not building permits, would add another 731 rooms to the current inventory. In the areas surrounding the peninsula, another 2,375 new rooms in 15 new properties were slated for construction.
All of these hotel rooms built on the peninsula and in surrounding areas mean one of two major things – or a combination of both:
1. An eventual costly drop in the 80 percent occupancy rates of some hotels, which will lead them to try harder to get more tourists by cutting deals or having their facilities slowly degrade as new hotels become the shiny thing of the moment.
2. A glut of visitors who, while appreciated by local businesses, cause such a degradation of the quality of life for people throughout the region that historic Charleston becomes little more than a Disney attraction for buffs of the old South.
Regardless, we're on a destructive path to kill the tourism goose that has laid the golden egg for so many local businesses. If we don't watch it and start thinking through choices in this city, we'll destroy what brings people to Charleston and everything will start swirling down the drain in 10 or 20 years.
The way to fix this unattractive vision is for leaders with vision to plan the city's future. Which is why we've always pushed a long-term strategic plan for the city that draws upon what residents want.
We'd encourage Mayor John Tecklenburg, who should be lauded — not barbecued — for suggesting changes to the historic overlay district to slow down construction of more hotels, to empanel a real planning effort (not by tone-deaf members of the Planning Commission) that looks at what the city wants to be in 50 years. Then it can work backwards from that vision to make policy decisions now that will be smart for the future.
Furthermore, maybe it's time to just throw out the whole hotel overlay district plans and make every hotel project go to city council for approval so that elected members will be held accountable for the decisions they make.
One thing is for sure, something has got to give. Maybe we should listen to a 10-year-old, who will probably be here in 50 years, unlike most of the hotel developers, business people and public officials here today.
Andy Brack is editor and publisher of Statehouse Report. Have a comment? Send to: feedback@statehousereport.com.