Cartoonist Ariail Loves Doodling, Drawing About S.C. Politics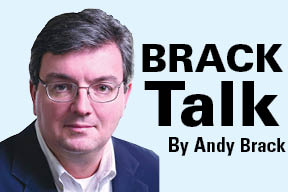 January 9, 2018
By Andy Brack | Contributing Writer
Award-winning South Carolina political cartoonist Robert Ariail has been having a jolly old time lampooning politicians for more than three decades.
As state legislators prepare to get back into the policy swing of things next week, we thought you might enjoy learning more about Ariail's craft of illustrating an editorial comment, often with a little humor added for good measure.
Q: Describe what makes a good political cartoon.
ARIAIL: I think a good political cartoon should be topical and easily understood while imparting a valid message or opinion using good drawing style and, when possible, humor.
Q: Describe your daily routine for developing a cartoon.
ARIAIL: I'm always thinking about cartoon ideas and I'm constantly jotting down a few key words to illustrate a concept so I won't forget it. Often, I'll include a crude sketch. Some mornings I have fully-formed ideas ready to go, requiring little or no preparatory sketching. Other days, I have to pore over news stories looking for the germ of an idea before I begin putting pen to paper Usually, it's a sentence or phrase that conjures an image in my mind that triggers the creative process. Fortunately, I usually have more ideas than days of the week to run them and the hardest thing for me is choosing which ones to run and which to discard.
Generally speaking, my mornings are spent brainstorming for ideas followed by sketching and re-sketching until I'm satisfied with the overall look and composition. Then I trace the final sketch on a light table with ink on bristol board, a type of heavy drawing paper. The brainstorming and sketching can take less than an hour or it can take all day. Inking the final drawing usually takes two to three hours. Then I scan the black-and-white cartoon and digitally add color using Photoshop and a Wacom tablet and stylus. That usually takes another hour or more.
Q: Where do your ideas come from and what percentage actually become published cartoons?
ARIAIL: My ideas come as I follow the news and allow my mind to freely associate words, phrases and imagery. I like to use passages and imagery from literature, poetry , movies , TV and the popular culture to make a point about current events. Some ideas are visually-based, some are situational and some are purely word-driven. I choose whichever method I think will best communicate the idea to the reader. I think about half to two-thirds of the ideas I come up with get published as a finished cartoon.
Q: Some themes, such as duplicity, stupidity, tragedy or corruption, seem to be obvious fodder for cartoonists. What themes are you drawn to consistently through the years, and why?
ARIAIL: Corruption in state government has definitely been a theme. From the Lost Trust scandal to the most recent ongoing corruption probe, I've had plenty of material to work with. The environment and protecting our state's many great natural resources has probably been my favorite recurring topic. And as visual themes, the Confederate battle flag and our iconic state flag have provided many opportunities to comment on South Carolina politics and events.
Q: Describe a cartoon that you did that led to change or helped to stoke the ovens for change?
ARIAIL: It's hard to say if a cartoon, or a series of cartoons, actually was the catalyst for change. I do remember a staffer for Gov. [Dick] Riley ( I won't mention any names ) was quoted in The State saying that when he saw my cartoon, he knew he had to step down — and he did. And I felt terrible about that. My cartoons on the Confederate flag flying above the Statehouse may have contributed to the growing movement to bring it down, but I can never know that. Likewise with cartoons on the GSX/Laidlaw toxic waste dump in Rimini and some other environmental threats to the state.
Q: What's the most fun about being a cartoonist?
ARIAIL: With the changing news, every day is a new and different challenge. I love the creative process involved with coming up with ideas and drawing them out. To me, it's not really work. I get to doodle and draw and spout off my opinions … and get paid for it. What's not to like?
For more on Ariail's work, visit RobertAriail.com.
Andy Brack is editor and publisher of Statehouse Report. Have a comment? Send to: feedback@statehousereport.com