Buffalo Stampede
Americana pioneers Donna The Buffalo play the Pour House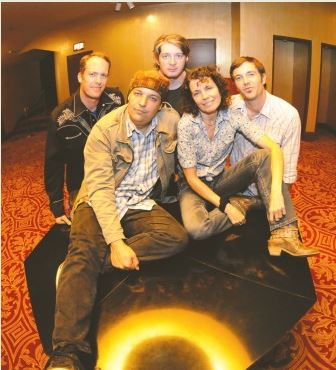 March 25, 2013
Special to West Of
Donna the Buffalo's feel-good, groove-oriented, danceable, and often socially-conscious music all began more than 20 years ago with roots in old-time fiddle music that evolved into a soulful electric Americana mix infused with elements of Cajun/Zydeco, rock, folk, reggae, and country. DtB is known for touring the country remaining fiercely independent as one of the industry's most diverse roots-music bands.
Although never writing a set list for live show, the dynamic songwriting tandem of vocalists Jeb Puryear and Tara Nevins have penned more than 180 songs in their collaboration with DtB and have many more in the making.
As of late, Nevins and Puryear have also been known to perform as a duo on air and on select songs at live shows, which is always enjoyable to the fans to hear their favorite DtB songs in stripped-down arrangements.
DtB has released nine albums and are affiliated with several others. The band's 2008 release Silverlined rose to #8 on the Americana Music Chart. Currently, DtB is recently completed their 10th album with Puryear on guitar, Nevins on fiddle, guitar, accordion, and scrub board, keyboardist Dave McCracken, bassist Kyle Spark, and drummer Mark Raudabaugh.
DtB 's fervent fan base, self-named The Herd, follows the band with zeal and has created a unique and supportive community online and at DtB shows across the nation. This Friday, March 22 The Heard will stampede the Pour House as DtB returns to James Island. "The main thing I like to say about The Herd is that you don't have to do anything to be a member," says Puryear. "You just have to like a song."
"It's a great feeling to promote such a feeling of community, like you're really part of something that's happening, like a movement or a positive force," says Nevins. "All those people that come and follow you and you recognize them and you become friends with them — you're all moving along for the same purpose. It is powerful. It's very powerful, actually."
As an extension of The Heard community and the band's own dedication to live roots music, DtB started and are still the driving force behind, the 20-plus-year-old Finger Lakes Grassroots Festival of Music & Dance in Trumansburg, N.Y. They're also regulars at MerleFest, Suwanee Springfest & Magnolia Fest, All Good Festival, Floyd Fest, and many other festivals across the nation.
Donna The Buffalo plays Friday, March 22 at the Charleston Pour House, located at 1977 Maybank Hwy. For tickets or more information visit www.charlestonpourhouse.com