Bring Forth The Fest
Oktoberfest and Märzenbier are here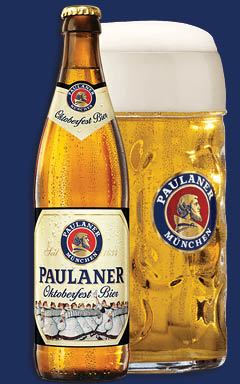 September 21, 2017
By Jeff Gredlein | The Beer Snob
The taps are rapidly changing, and a transition is upon us. Oktoberfest officially started last week, and with it comes the autumn seasonal beer that represents and often tastes like it's namesake time of year. And the beer you need to know, the amber lager of fall, is Märzen.
The original Märzenbier is and was the "March beer", a style brewed before the weather turned warm, that was kept in cool cellars or caves (to lager), and was served over the summer months until brewing resumed in fall. In the past, before refrigeration, the heat and unstable conditions of spring and summer forced brewing to stop near the end of March. These original Märzen lagers were amber colored, somewhat hoppy, stronger than most beers to assist with keeping over the warm months, and likely more full bodied than other brews.
Versions of the original Märzenbier were likely around as early as the 16th century. However, it was not until 1841 when the Spaten Brewery introduced an amber lager called "Märzenbier" at that year's Oktoberfest that the style was technically born. Märzenbier would eventually become Oktoberfestbier. And, in 1872, Spaten first used the term Oktoberfestbier to describe a beer that was quite similar to a Märzen, but made slightly stronger and darker, quite possibly a Bock bier, for that years beer fest.
While in our country, Oktoberfest and Märzen is basically the same thing, if you even see the word Märzen listed anywhere, there are a few different versions in Germany. In Germany, upon ordering a Märzen, you are just as likely to be served a golden-colored beer that may seem like a malty pilsner, which is exactly the domestic German style for Oktoberfest. These beers are normally between 4-5 percent alcohol by volume (ABV).
Export versions of German Oktoberfest beers are significantly darker, most are light amber, and offer that toasty Vienna or Munich malt. The beers brewed specifically for the festival are more closely related to the versions of Oktoberfest lager our American brewers make: malty, rich and slightly higher in alcohol (5-7 percent ABV).
Compared to most of the beers you've been drinking all summer, fest beers will be extremely malty, but in truth, they are balanced, smooth,    clean and easy-going. They fall on the side of creamy compared to most overly carbonated summer beers, but they offer only a medium fullness and a dry finish, so they don't feel heavy.
The smells expected from Oktoberfest beers are of a toasty and bready nature. This is not a caramel or chocolate sweet beer, and a hint of grain is not uncommon. Flavors might seem sweet at first, which might be expected from a malty lager compared to those of the golden variety, but they are nothing of the sort. Again, think dark bread with a distinct lager sense, no fruit or cookies here. Hops serve as a base on which the complex German malts dance.
And dance, you should too. It's September and the greatest beer festival has begun. Embrace malty lager. Embrace fall. Embrace great beer. Enjoy the brews … Cheers.
Gene's Haufbrau has at more than 200 beers in bottles or on tap. While they don't have every beer the Beer Snob writes about, they probably  have most. E-mail the Beer Snob at publisher@westof.net.