Bridge Bike Lane Test Begins in April
Right lane of Ashley River Bridge will be closed for next two months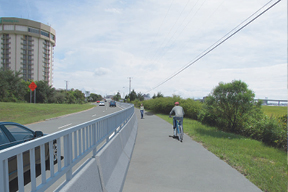 March 30, 2016
From Staff Reports
Charleston County has announced that beginning Saturday, April 2, the far right lane of the peninsular-bound Ashley River Bridge will be closed for up to 60 days.
The purpose is to measure the actual traffic impact of the creation of a proposed bike lane over the bridge from West Ashley and onto the peninsula. According to the county, drivers traveling on the bridge north from Folly Road will see a new traffic pattern.
Some heavier traffic is expected. But pedestrians and cyclists will not be allowed to use the dedicated, closed lane.
An enhanced off-ramp/Lockwood Boulevard intersection has been designed in hopes of lessening the traffic woes, especially during morning peak commute times.
The construction of the temporary lane, should it proceed to full implementation, is an attempt to bolster alternative traffic, reduce congestion and car trips and pollution.
Some observers worry that it will create an untenable traffic bottleneck, and the lane will be underutilized.