Big Hats, Fast Horses Come To West Ashley
Steeplechase of Charleston comes to The Stono Ferry Racetrack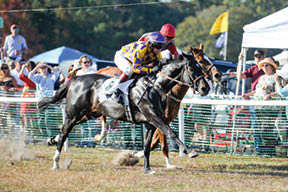 April 4, 2017
From Staff Reports
A new race meet, The Steeplechase of Charleston at Stono Ferry Racetrack in West Ashley, will join the National Steeplechase Association's 2017 spring racing schedule on Saturday, April 8. Tickets are now on sale and can be purchased online for $40 and children 12 and under are admitted free of charge.
This family-friendly event will feature more than 60 horses competing in six races throughout the day. Additionally, there will be a Vendor Village for shopping, food trucks such as King of Pops, Chopped-n-Topped, Ben and Jerry's, along with various tailgating areas and more.
Race Schedule Includes:
• 9 a.m.: Gates Open
• 1 p.m.: First Race
• 1:30 p.m.: Second Race
• 2 p.m.: Third Race
• 2:30 p.m.: Fourth Race
• 3 p.m.: Fifth Race
• 3:30 p.m.: Sixth Race
The Plantation at Stono Ferry Racetrack is located at 5000 Old York Course in Hollywood. For additional information on tickets, tailgate packages and sponsorship opportunities, please visit www.steeplechaseofcharleston.com.