Beyond the Fields
New documentary takes a look at slavery at Middleton Place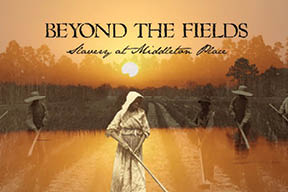 October 4, 2017
From Staff Reports
On Sunday, Oct. 1 the new documentary Beyond the Fields – Slavery at Middleton Place made its debut on South Carolina Educational Television (SCETV). Created by the Middleton Place Foundation, the documentary illuminates the lives led and the contributions made by some seven generations of people who were enslaved by the Middleton family in the 18th and 19th centuries.
The Middleton Place Foundation has long been engaged in research and documentation that informed the interpretation of the history of the families — both black and white — that built and occupied Middleton Place from its founding in 1741. The documentary supplements work undertaken in the early 2000s that culminated in a book, also titled Beyond the Fields – Slavery at Middleton Place, that was published in 2008 and which itself was an offshoot of an exhibit of the same name mounted in Eliza's House, a freedman's house built in 1870 that is similar in style to antebellum slave cabins.
The documentary is not just about the past — it's about interpreting the lives of the enslaved for a 21st century audience. "It was time to take the interpretation of the slave experience and bring it to a new medium, with new insights from present-day historians, researchers, preservationists and historic site interpreters, along with descendants of the Middleton family and of African Americans with roots at Middleton Place. They provide a much needed and fresh perspective on what life was like here when slaves built and sustained Middleton Place, Charleston and, for that matter, the economy of the entire region," says Tracey Todd, Chief Operating Officer of Middleton Place, who also served as executive producer of the documentary and is co-author of the book which inspired it.
Beyond the Fields – Slavery at Middleton Place, which has recently won a Gold Award from the Southeastern Museums Conference, is slated to air again at 7 a.m. on Sunday, Oct. 8 on ETVW (ETV World subchannel) and again at 8 p.m. on Monday, Oct. 9 on SCC (South Carolina subchannel).