Being Proud to be Southern Ain't Going Away Anytime Soon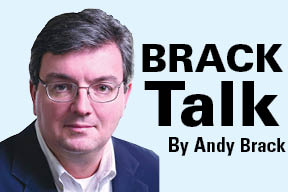 February 23, 2017
By Andy Brack | Contributing Writer
Back in 2009, an Australian friend's son wanted to learn about the South. He visited in Charleston for a few days. Then we piled into an old Ford Explorer and set off to see the South.
In eight days and 2,277 miles to Arkansas and back, we saw three Confederate flags, met with a former governor of Mississippi, visited a presidential library, trod on a Civil War battlefield, attended a service at a black megachurch, ate lots of good food and listened. By the end of the trip, my then-18-year-old friend came to a conclusion that lots of academics have spent lifetimes trying to understand: "Southern identity is a lot more complicated than it might seem," he observed.
That conclusion is found throughout a great new book by two political science professors, Christopher A. Cooper of Western Carolina University and Gibbs Knotts, chair of the political science department at the College of Charleston. In "The Resilience of Southern Identity: Why the South Still Matters in the Minds of its People" [UNC Press, $29.95], they argue the notion of being "Southern" is alive and well, despite years of massive changes in society from the end of institutionalized segregation and increasing urbanization to the influx of millions of people not born in the South, now the nation's largest region with 121 million people.
Many argue, the authors write, the region's identity is becoming less important because of years of these changes. Yet they found the opposite in a 134-page study that includes reviews of academic literature, polling data and discussions with focus groups.
"Southern identity has weathered these potential challenges quite well," Cooper and Knotts write. "Today's residents of the southern United States are at least as likely to proclaim their southern identity as they ever have been. …
"Southern identity does not represent just a tacit connection to an ephemeral concept, but rather one that is central to how people organize their values and understand their connections to the physical and social worlds around them. … As a result of this interaction [with people from outside the South], Southerners gain a heightened sense of regional consciousness."
One major takeaway from the book is the notion of just who Southerners are. In general, the authors found that black and white Southerners identify as proud to be Southerners, but they create their own definitions of what it means to be Southern. "One key finding of this investigation is that blacks and whites today are equally likely to identify as Southerners."
The most memorable things during the 2009 journey across the South with the Australian student were conversations with people, some important, most everyday folks. These conversations, just like the focus groups conducted by Cooper and Knotts, highlighted the region's shared culture beyond grits, storytelling, loudmouth politicians, race, poverty and football.
"There is a shared set of values of hard work and doing things right and there's a shared history and burden of history," I reflected eight years ago. "And there's a shared sense of grace across much of the region, as evidenced by that old lady in the Corner Café [in Arkansas] just telling us to be safe when we left."
The book by Cooper and Knotts gives fresh, updated insights into a region that continues to vex and perplex much of the nation. But by the end of the book, it's clear that while the old South of clichés and myths is fading, any reports that the South as a region is dying is, as Mark Twain might say, "greatly exaggerated."
In fact, the South might just rise again, but not in a way that Confederate-flag-waving rednecks might taunt on bumper stickers affixed to dented pick-up trucks.
Cooper and Knotts suggest in their conclusion: "We did discover that the younger focus group participants were often the most ardent defenders of the South, even lamenting the ways that Southerners are portrayed on social media. This younger group of Southerners will certainly play a major role in shaping the future of Southern identity and determine whether the concept will evolve and still have meaning."
And it surely will. Y'all.
Andy Brack is editor and publisher of Statehouse Report. Have a comment? Send to: feedback@statehousereport.com.