Beauty As Action
Fabulon Hosts a Conversation with author and artist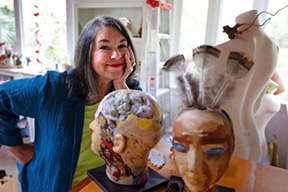 Fabulon: A Center For Art Education welcomes author and advocate Lisa Lindahl for a conversation/book discussion on Thursday, Feb. 22 from 5:30-7 p.m.
February 12, 2018
From Staff Reports
What really matters? Surprisingly, it is Beauty! True beauty, not the glamour that distracts us these days. Each of us bringing beauty into our everyday life can actually help change the world. Why? Practicing "True Beauty" helps to shift our culture from competition and greed to one of cooperation and harmony.  Join revolutionary entrepreneur, thought leader, artist, author, and advocate Lisa Lindahl for an open conversation/book discussion regarding Beauty: Cosmology vs. Cosmetology on Thursday, Feb. 22 from 5:30-7 p.m. at Fabulon: A Center for Art and Education, located at 1017 Wappoo Road.
She will be discussing her book Beauty as Action but participants do not need to have read the book prior to event to enjoy it. Books will be available for purchase at the event.
Solving problems, sussing out mysteries, and looking for new answers are the hallmarks of Lindahl's remarkable life — one which has been overstocked with both challenges and triumphs, betrayals and blessings. From Sri Lanka to Vermont, running trails and hospital beds, and many stops in between Lindahl has gathered stories and wisdom bits – and now she is inviting us to understand and reclaim true beauty.