Athlete of the Week: Trae Baumrind
WAHS senior breaks school record and places 2nd at State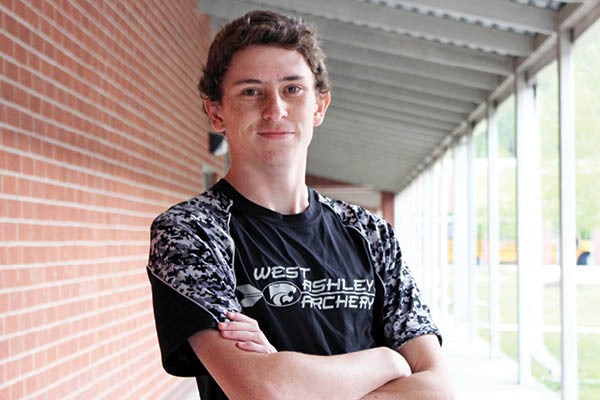 Isabella Wilkinson
April 13, 2017
By Abigail Floyd | Contributing Writer
West Ashley High School senior Trae Baumrind has made great bounds in the two years he has been on the high school's archery team. Recently, Baumrind won second place in the South Carolina State Archery Meet. "Trae kept his best performance for the state meet where he shot a personal best and school record of 289 / 300," says Archery Coach Thomas Cousins. This score left Baumrind tied for first with another archer; when they went to a five-arrow shootout, Baumrind lost by 1 point, 47-46.
His second place win earned him a $2,000 scholarship that can be used at any college of his choice. Baumrind also qualified for the National Archery Tournament, which will take place on May 11th-13th in Louisville, Kentucky. "Trae is a great kid who has been a leader on our archery team all year," says Cousins. "He works hard and continues to get better each meet."
Baumrind has extra motivation to work hard and continue improving when it comes to archery: He is dating the coach's daughter. It's actually what got him into archery in the first place. Being around Cousins and hearing him talk about archery made Baumrind want to give it a try. "Last year I wasn't really good," says Baumrind. "This year I buckled down. [I] practice more and try not to be lazy."
"I've always wanted to do better," says Baumrind. He's been doing all he can to fix his mistakes from last year, focusing mostly on improving his aiming and working hard. "You can advance faster if you know what you're doing," says Baumrind.  "I motivate myself [by] wanting to beat others' scores."
Despite his efforts to improve and be more competitive, Baumrind still occasionally finds himself distracted when people talk to him while he's shooting; it throws him off. When that happens, he says, "I try to tune them out and not respond." He also tries to focus and control his breathing while shooting to improve his accuracy.
Outside of archery, Baumrind is involved in a wide array of activities. He is a valued member of the West Ashley High Skeet Shooting Team, The Clay Busters, and maintains good grades in all of his classes. He works part time at Field & Stream and is actively involved in his church. In his free time, he enjoys eating and working on boats.
When he graduates in June, Baumrind hopes to spend two years at Trident Technical College before he transfers to a four-year college like the University of South Carolina; he plans to take advantage of the Trident Technical College BRIDGE Program and to pursue a career in wildlife preservation or natural resources preservation.