Athlete of the Week — Makenzie Watkins
WAHS senior raises the bar on and off the field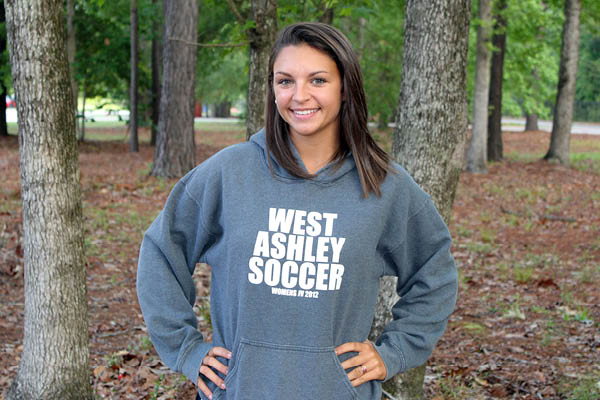 Photo By Isabella Wilkinson
May 3, 2017
By Abigail Floyd | Contributing Writer
Senior Makenzie Watkins has truly made her mark on the West Ashley High School Varsity Girls Soccer Team. She joined the team as a seventh grader and has been a valued teammate since then. "Makenzie has demonstrated her passion and skill for the sport throughout the years," says Varsity Girls Soccer Coach Drew McNeely. "She is everything that stands for West Ashley Soccer."
Watkins was surprised to learn that she was selected as the Athlete of the Week because she recently tore her anterior cruciate ligament (ACL) and was forced to sit out during her senior night game against Wando. "I can't imagine how she felt having worked so hard this season only to have to sit through her senior night," said McNeely. Learning that she had earned the title of Athlete of the Week, despite her injury, made Watkins smile. "I didn't think I'd be recognized in such a nice way," says Watkins.
For the past 12 years soccer has been a major part of Watkins' life. "The sport has shaped who she is today," says McNeely. Watkins was six when her parents got her started playing. She kept playing because she liked how it kept her active and she liked the camaraderie of her teammates. One of her best friends also happens to be one of her teammates, Ariel. Watkins says, "She's always there after a tough loss." She also looks up to her coach. "Coach McNeely has changed my perspective on the game," says Watkins.
One of Watkins' proudest moments in soccer was being made one of the captains of the team as a sophomore. She held that honor during her junior and senior years as well. Watkins also won the Wendy's High School Heisman this year. The Wendy's High School Heisman is an award that recognizes high school seniors who give back to their communities, treat others with respect, and continue to excel both in the classroom and on the athletic field.
"She is a true leader, on and off the field, and has raised the bar for those that intend to follow in her footsteps," says McNeely. Off the field, Watkins is just as impressive. During her four years at West Ashley High she has been involved in a variety of extracurricular activities: she was a member of The Drama Studio, spent one year in NJROTC, and was an assistant on the Prom Committee. She is currently a Student Ambassador, a member of the Spanish Club, and a member of National Honor Society. She currently holds a 4.75 GPA and is in the top 10 of the 2017 graduating class. She was also recently awarded the Palmetto Fellows Scholarship.
"School's always first," says Watkins. After school, Watkins works part-time at Gilligan's Seafood Restaurant. When she's not playing soccer, participating in an extracurricular activity, or working part-time, Watkins likes to spend her spare time going to the beach and reading.
Watkins is going to Clemson University in the fall to major in biology. While she doesn't plan to play soccer competitively in college, she admitted that she still hopes to play club or recreational soccer after she heals from ACL surgery. "Her motivation and drive to be successful will benefit her in the years to come," says McNeely.