Athlete of the Week: Kenyatta Jenkins
WAHS junior goes the extra mile for his team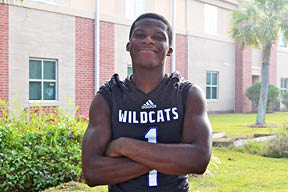 Photo By Megan Clark
September 28, 2017
By Tyler Harrison | Contributing Writer
Although Kenyatta Jenkins is only a junior at West Ashley High School (WAHS), he's still the starting quarterback for the Varsity football team. "He has been a leader on the Wildcat offense," says head varsity football coach Robert Marion. In just the first two games of the season, Jenkins rushed for 303 yards with four rushing touchdowns. He also threw for five touchdowns.
Regardless of his impressive start, Jenkins is humble. "I don't wanna be greedy," says Jenkins. "I want to share the ball. I want everybody to get touchdowns." This selfless attitude is undoubtedly another reason why Jenkins is lauded as a humble leader in the locker room, whether it is for football or basketball.
During the winter, Jenkins plays Varsity basketball for West Ashley High. His willingness to share the ball in both basketball and football is part of what makes him such a great leader. Just as a quarterback is known for his passing ability, a basketball point guard is known for his willingness to share (and pass) the ball. It is this manner of selfless play that has undoubtedly aided Jenkins and his team in their recent successes.
"I've got big expectations," says Jenkins. "I can't be perfect, but I try to be." This humble leader does whatever he can in order to improve himself for the team. When Jenkins isn't at practice or school, he takes the extra steps to get better. He watches film on other teams, videos on quarterback skills, and he runs during the offseason in order to improve. He is even planning to tryout for the high school's track & field team during the offseason in order to stay conditioned.
"[Jenkins] understands what we need to be successful," says Marion. "If my team is down, I'll pick them up because that's my job," says Jenkins. Just like his idol, University of Louisville quarterback Lamar Jackson, Jenkins is familiar with all positions on the field. In fact, Jenkins wasn't always a quarterback; he used to play running back and cornerback before he moved to quarterback. Knowledge of these positions has helped Jenkins to be a more knowledgeable and versatile player.
Since Jenkins is only a junior, he still has a year to grow and learn, which will hopefully make him that much more of an asset for West Ashley High during his senior year. After he graduates, Jenkins hopes to attend either Duke University, the University of South Carolina, or North Carolina State University and play either basketball or football. He wants to major in aerospace engineering, and he is even taking a few engineering classes at WAHS in order to prepare for college.