Athlete of the Week — Karissa Johnson
Freshman willing to do whatever is needed to help her team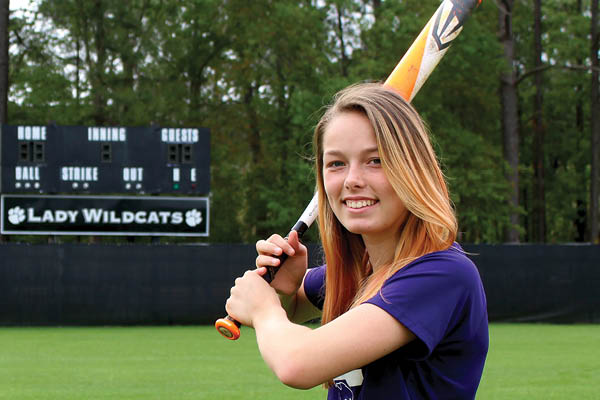 Photo By Grace Deavor
April 29, 2017
By Abigail Floyd | Contributing Writer
West Ashley High School freshman Karissa Johnson has already made a great deal of progress in her first year on the West Ashley High School Varsity Softball Team. To be named Athlete of the Week during her first year on the team was a bit of a shock for her. "I feel like it's an honor being so young and my coach thinking I'm good enough," says Johnson.
"Karissa is the epitome of what our coaching staff is looking for to represent the West Ashley High School softball program," says varsity softball coach Susan Brush. "She is a dedicated, hardworking student-athlete that excels in the classroom and on the softball field."
Johnson started playing softball approximately nine years ago when she joined a recreational team. She really liked the competition and how the sport complimented her personality. "I like being a leader and in charge," says Johnson. "On the field I'm able to do that." She is also a very positive person, which her coach noticed and appreciates.
At Johnson's most recent game, she played shortstop and went 2-for-2 at the plate. Brush expressed gratitude for Johnson's willingness to always put the team first. "This season, Karissa has been asked to step up and play four different positions," says Brush. "Every time, Karissa has performed well and put the needs of the team ahead of her own while consistently exhibiting a positive attitude."
Staying in shape for the season is very important to Johnson. She works hard during practice everyday and does extra workouts after practice 2-3 days a week. Her schoolwork always comes first though, as she makes sure to stay true to being a student-athlete. Brush even offers a study hall for her players to work on schoolwork for a specific amount of time before they go to practice.
When Johnson's not playing or practicing, she likes to go to the beach and hangout with friends. Johnson also enjoys doing community service work with her teammates. They soon plan to "adopt" a younger softball team and mentor them.
Since she's only a freshman, Johnson hasn't decided yet where she wants to go to college, but she's currently interested in majoring in either psychology or sports medicine. She plans to take the classes West Ashley High offers like sports medicine, medical terminology, and AP psychology in order to help her learn as much as she can about both.