Athlete of the Week — Joseph Abeyta
Junior wrestler begins the season with a 6-0 record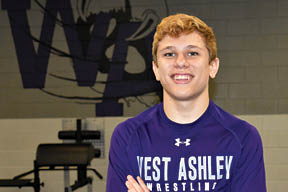 Photo By Sydney Cheatham
December 6, 2017
By Dean Rose | Contributing Writer
West Ashley High junior Joseph Abeyta is starting off this wrestling season hot! He finished first in the U.S. Army Sandlapper Wrestling Invitational and was named the Tournament MVP. He is currently undefeated with a record of 6-0 including one big win against an opponent who was previously ranked third among all 4A male wrestlers in the state. "After such a strong start, I'm very excited to see what he can accomplish this year," says Varsity Wrestling Coach Austin Miller.
Abeyta attributes his wins to his dedication to practice. This season, Abeyta has been focusing on improving his technique and increasing his strength. "Joseph has come a long way since his freshman season, and I am very happy to see his growth as an athlete and as a young man," says Miller. Abeyta works hard at every practice and he works out and wrestles during the offseason as well. During the summer, he wrestled for a California team and was able to go to Nationals.
Abeyta has been wrestling for a long time, thirteen years to be exact. In that time wrestling has taught him a lot, especially self-discipline. "I'm determined. I never quit," says Abeyta. "If something bad happens, I keep pushing forward."
His attitude, determination, and experience have helped him emerge as a leader on the team. His teammates look to him for guidance. "When he is not wrestling, I can depend on him to help other wrestlers with technique and that is not something you see from a lot of athletes," says Miller. "We try to push each other and make everyone better," says Abeyta.
Outside of wrestling, Abeyta likes to show his big heart. He and four of his friends get together every couple of weeks to commit acts of community service. They are not affiliated with a club, church or any other organization and nobody tells them to or makes them do the community service. They just decided to do it on their own.
Their most recent act of community service included visiting children at the Medical University of South Carolina Hospital who were suffering from cancer. Their next event is already scheduled in December; they will be picking up trash to help clean up the community.
His dedication to service and community and his self-discipline will serve him well in the future, especially if he ends up going to the Naval Academy. "It's just kinda what I've always wanted to do with my life," says Abeyta. Luckily for the Wildcats, Abeyta still has this season and another before he graduates.