Athlete of the Week — Jay Smith
Junior competes in 5A State Wrestling Meet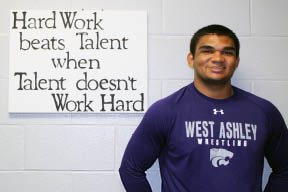 Photo By Isa Wilkinson
March 8, 2017
By Phox Truit | Contributing Writer
West Ashley High junior wrestler Jay Smith has made his school proud this season. With only three years of experience, he qualified and was able to compete in the 5A State Wrestling Meet. He finished the season with a record of 33 wins and only 5 losses. According to the SCMAT South Carolina Wrestling website, Smith is ranked 8th in the state.
Making it to State is a very big deal; it takes an extraordinary amount of discipline and motivation to be able to compete at that level. "Jay's work ethic has allowed him to become an elite wrestler in the state of South Carolina," says Head Varsity Wrestling Coach Austin Miller.
Smith is a dedicated athlete who is willing to put in the time and effort in order to improve. "When everyone's normally just standing around, I do extra work and more drills," says Smith. Aside from wrestling, Smith is also on the Varsity football team and competes in the following events for Track & Field: shot put, discus throw, and the 110-meter hurdles. He's an extremely active athlete who is also very academically inclined.
"Jay is a model citizen not only on the mat but also in the classroom," says Miller.
Smith is a member of the National Honor Society and takes honors and AP courses. He is a very humble person who makes a good impression on his peers and coaches alike. "I am very pleased at how much Jay has improved not only as an athlete, but as a young man," says Miller. West Ashley High knows he is doing his best and is proud of his achievements.
After Smith graduates, he plans to attend the University of South Carolina or to Coastal Carolina University. He says he would like to play football in college. As for a major, he hopes to pursue marine science. "I just love the animals and observing them," says Smith. If that doesn't pan out, he is also interested in health science.
Smith expressed gratitude for his parents and for his wrestling coaches – Coach Miller, Coach Richard Luden, and Coach Joe Clark – for their support in athletics and for actively motivating him to be a better student-athlete. "I am very proud of Jay's accomplishments and look forward to see where the years take him," says Miller. West Ashley High is lucky to have just one more year with Smith, and hopefully next year he will continue rocking the leaderboards.