Athlete of the Week — Isaiah Whitney
West Ashley High senior is on a mission to succeed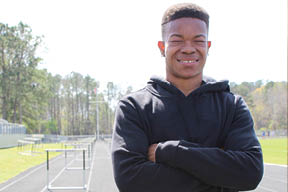 Photo By Isabella Wilkinson
March 15, 2017
By Abigail Floyd | Contributing Writer
Senior Isaiah Whitney is a hardworking member of the West Ashley High School Track & Field Team. At the Sandlapper Track & Field Classic, Whitney finished second in the 4×100 meter relay, second in the 200-meter dash, and third in the 100-meter dash. He works just as hard in an athletic arena as he does in a classroom. "This student-athlete is a tremendous addition to anyone's athletic program and classroom," says West Ashley High Track Coach Douglas O'Donald, "Isaiah maintains a 4.0 GPA while also achieving great success on the football field, and now the track."
Whitney is proud to be West Ashley High's Athlete of the Week. "It feels real good," says Whitney. "I worked real hard." Whitney has been on the track team for three years now. When he was just a freshman and playing soccer, one of his teammates suggested he try out for the team.
When he transferred to West Ashley High at the beginning of his sophomore year, he decided to take his former soccer teammate's advice. Whitney tried out for track and football, and easily made both teams. Unfortunately, he faced a major setback during his sophomore year: he lost one of his brothers to cancer. Whitney could have easily fallen victim to grief, but instead he persisted and used his loss as a way to strive to be better. He now has a tattoo of his brother's name on his chest; he looks at the tattoo in the mirror everyday as a source of strength.
Striving to do and to be better are now ingrained in Whitney's personality. "After training, I do bleachers," says Whitney. He is just as dedicated in the classroom as he is on the field. "My schoolwork always comes first," he says. Whitney manages to balance his schoolwork, track, football, and a part-time job by being willing to make sacrifices. Whitney only works on Fridays, and puts his schoolwork above any other personal commitments.
After his schoolwork is done, Whitney devotes time to training mentally and physically. He even spends time at home watching motivational videos and doing whatever he can to better himself. Whitney claims his brothers are great motivators because they never let him settle for anything less than the best. "I couldn't do it without my brothers," he says.
Whitney is determined to earn a scholarship for athletics or academics so he can go to college. He hopes to continue being a student-athlete and would like to attend either the University of South Carolina or Coastal Carolina University. Wherever he ends up, Whitney plans to major in electrical engineering. With all the hard work and determination Whitney puts into everything he does, we look forward to seeing him excel in the future.