Athlete of the Week — Ben Harley
West Ashley High Senior makes strong return to wrestling after injury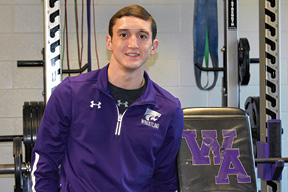 Photo By Sydney Cheatham
February 8, 2018
By Abigail Floyd | Contributing Writer
After being sidelined for three months in order to allow his tibial stress fracture to heal, senior wrestler Ben Harley was quick to bounce back. In his first match back, Harley beat his James Island opponent and went on to add two more wins to his record. He was happy to be named this week's Athlete of the Week. "It's pretty exciting," says Harley.
Despite being benched for the majority of the season, Harley still found ways to give one hundred percent effort as a team member. "Even though he was hurt for most of the season, Ben still came to practice every day and served in a student assistant capacity," says Varsity Wrestling Coach Austin Miller.
The stress fracture may have been Harley's biggest obstacle this year, but it certainly wasn't his only one. Harley sometimes finds himself struggling with the mental aspect of wrestling, but he enjoys the challenge. "I like the hard work it takes," says Harley. He combats this by trying not to think too much when he's on the mat. Despite all his struggles this year, Harley has only gotten better. "I always tell my athletes that adversity is opportunity," says Miller. "Ben not only used his adversity to become a better wrestler, he used it to become an even better citizen!"
Harley sees himself as a leader on the team, so he always tries to set an example for the younger wrestlers whether it's on the mat, in the classroom, or by being involved in extracurricular activities. Harley is a member of the National Honor Society and Interact Club; he is also a member of the WAHS Cross Country Team and Boys Golf Team. He has worked hard to find a good balance between school, sports, and community service.
Harley is inspired by those around him, especially his coaches and parents. "I want to thank my parents for teaching me how to set a good example and for being there every step of the way through my high school career," says Harley. He never loses sight of those who have helped him along the way and he makes sure to let them know. "He truly cares about the people in his life," says Miller.
After he graduates in May, Harley plans to attend Clemson University to major in Turfgrass Science. "Ben will be successful in whatever he does in life," says Miller. "Because he does everything to the best of his ability." We have no doubts about Harley's future successes and we wish him the best going forward.