Athlete of the Week — Anaze' Ravenel
Newcomer quickly connects with her team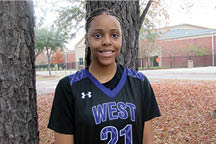 Photo By Holli Pettis
December 14, 2017
By Tyler Harrison | Contributing Writer
Junior Anaze' Ravenel is at the start of her sixth season playing basketball, but this is just her first season playing for West Ashley High School. Ravenel transferred to West Ashley High at the beginning of the school year, and she quickly bonded with her teammates. "It's good that she was able to come in and gel with the team," says Head Varsity Basketball Coach Maria Williams. "I'm really enjoying coaching her."
Ravenel feels like she's really meshing well with her teammates. "I like this team," she says. "We always vibe together." She especially likes the "family vibe" the team gives off. "If one person messes up, we don't leave them by themselves," says Ravenel. "We stand together." She claims that her personality is part of the reason she fits in so well with the team.
"She's a very humble player," says Williams. Even if she's playing well, Ravenel makes sure it doesn't go to her head and that she's always putting her team and her teammates first. "I make sure everybody has the chance to do what they're going to do," says Ravenel.  She even tries to find ways to better herself and others. "I push my teammates and I never give up on a play," she says.
Ravenel always tries to reflect on her games and improve on her weaknesses. If she misses a rebound, she holds herself accountable, and works that much harder to win the ball back. If a player is bigger or faster, instead of giving up, Ravenel just plays harder. "I just say to myself, 'you know what you're capable of' and play as hard as I can," says Ravenel.
It doesn't matter the time of the year, Ravenel is always working on her game. She carries a ball with her wherever she goes so she can improve her dribbling skills, especially her left-handed dribbling. She claims that she learned this technique from her brother, who also used to play basketball. At this point in the season, she has been spending time practicing her defensive slides and working on post moves. Her dedication and consistent hard work are some of the reasons why she earned the title of Defensive Player of the Year for her James Island team last year.
When Ravenel isn't playing basketball, she is either working or studying. Her work ethic on and off the court is unparalleled. "She works hard in practice and she plays hard," says Williams. "She applies those same principles in the classroom." Next year when she goes to college, these principals will definitely come in handy.