Athlete of the Week: Alex King
WAHS Senior understands the importance of working together as a team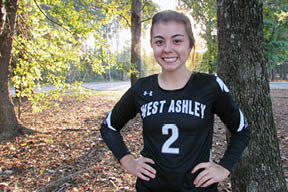 Photo By Sydney Cheatham
October 27, 2017
By Tyler Harrison | Contributing Writer
For the second time in her high school career, senior Alex King has been selected as the Athlete of the Week. "It's exciting that my coach would pick me," says King. "Alex is a captain in every sense of the word," says Varsity Volleyball Coach Austin Miller. "She shows up early, leaves late, and is always willing to sacrifice for the team."
King has been playing volleyball since she was in the 5th grade, so she's had quite a bit of practice. She is so dedicated to playing and improving that she even plays club volleyball in the offseason. King puts as much time as she can into the game for more than just wanting to better herself; she also wants to play well for her team. "I'm very proud of all that Alex has accomplished on and off the court this year," says Miller. So far this season, King has had 205 digs and 25 aces, and they still have games left to play!
King and her teammates recently played in the first round of the Playoffs at Carolina Forest High School, which in King's eyes, is the team's greatest accomplishment so far this season. She says that the team made it so far this season because of their hard work and good communication on the court. "We work really hard in practice so we're ready for games," says King. "We finally started communicating and working together as a team."
King believes that part of the reason the team's communication improved on the court is because they are all friends. "We're really close off the court too," says King. "If we mess up, we pick each other up rather than put each other down." One of King's favorite things about volleyball is getting close to her teammates. She also enjoys the bus rides to and from each match and getting ready for games.
King makes sure she can play in every game by keeping her grades up. She makes sure to get all of her work completed and turned in on time. Outside of being a dedicated player and student, King is a part of a number of clubs and organizations. She is a member of the National Honor Society, Prom Committee, Student Government Association, and Interact Club. "I just like being involved," says King. "I like having a say and voice."