As Seasons Change, So Do Menus
Triangle Char + Bar Keeps Locals Happy and Menu Fresh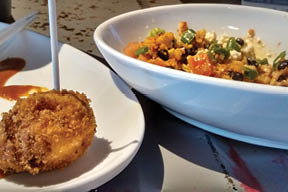 March 31, 2017
By Lyndsey Medford | Contributing Writer
In 2006, the choice to put a restaurant joint in an old service station at the corner of Magnolia Road and Savannah Highway was a bit of a gamble. Since then, Avondale has blossomed and Triangle Char & Bar has become the heart of the neighborhood's trendiest district, its menu expanding apace with the block on which it sits.
The restaurant was an experiment in more ways than one. Originally, it opened as Avondale Station, a Cuban-inspired eatery that may have been a little ahead of its time. Then when it morphed into Triangle Char + Bar, the restaurant not only led the growth of the Avondale business district but also helped to pioneer a focus on local investment and Earth-friendly practices. From using recycled and upcycled decor elements, to serving only locally-sourced grass-fed beef, to extensive involvement with local nonprofits, every element of the Triangle experience delivers a contribution to the neighborhood as well as a boost to the palate.
The back of house recycles containers and composts all food waste, while management partners with the SurfRider and AbleLife foundations along with Charleston Animal Society. It's no surprise, then, that Triangle courts the local crowd rather than tourist dollars, and succeeds; by 2:30 p.m. on this Friday afternoon, the bar is filling up with weekenders catching up over craft beers or fancy cocktails. But Sunday morning is its busiest shift of the week, perhaps due in equal parts to a menu of filling brunch favorites and the famous $7 full-bottle-of-champagne mimosa carafe. Both have recently become available at lunch any day of the week.
Triangle's menu gets a refresh every spring and fall, and the update process reflects its values as strongly as any other aspect of the business. It's a three-month endeavor, beginning with chef Chad Healey's kitchen experiments and ending with a day-long focus group that incorporates input from servers, cooks, and regulars alike. Grass-fed burgers and tacos remain at the core of the menu along with a starter menu packed with the most indulgent bar snacks known to New American fryers. The Brisket-Mac Lollipops, for example: creamy macaroni balls are apparently held together by magic and ensconced in a light, perfectly crispy crust, with tangy barbecue sauce for dipping.
Alongside these standbys, though, the kitchen is always investigating new trends and fresh ingredients. This spring's new menu features Funky Bowls, salads and grain bowls that combine flavors, textures, and colors to create an art piece reminiscent of the multicolored mural behind the bar, for which "bowl" hardly seems the appropriate name. So far, the most popular offering is the Fiesta Bowl. Jasmine rice in a kicky sauce offers an opportunity to compose a new moment with every bite: tomatoes, corn, black beans, creamy cotija cheese, and plenty of green onions practically demand a "fiesta in the mouth" joke.
The fresh ingredients shout "springtime" when paired with the house beer, Low Tide's Welcome Wheat, delivering a bright, fruity punch and lingering, chewy wheat flavor. At lunch, spring brings a new a la carte Lunch Break menu that promises a homegrown meal in a quick-service time frame.
The food and drinks, of course, are only half the Triangle experience; its funky decor, open-air feel, and the satisfaction of contributing to a SurfRider-friendly, locally-invested establishment round it out. By staying true to its neighborhood roots, Triangle Char & Bar relentlessly commits to being a positive force in the wider world and keeps locals happily fed all at the same time.
Triangle has also recently added another wrinkle to their menu by offering late night breakfast on Friday and Saturday nights for late night revelers in Avondale who don't want to wait for their morning food fix. Triangle's Late Night Breakfast menu includes items such as Smothered and Covered (biscuits with sausage gravy, cheddar cheese, bacon, scallions, and tomatoes), The Big A.S.S. (Applewood Smoked Sausage) Burrito, and The Chicken or The Egg, a biscuit stuffed with fried chicken, scrambled eggs, cheddar cheese, and crispy bacon..

Triangle Char + Bar is located at 828 Savannah Hwy. For more information, call 377-1300 or visit trianglecharandbar.com.