All Their Hard Work Finally Pays Off
366 students graduated from West Ashley High School on June 1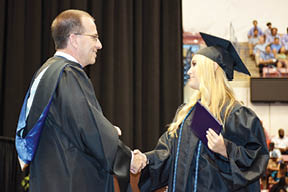 Principal Lee Runyon presents a diploma and offers congratulations to Payton Morelli who will attend Lipscomb University in the fall. Runyon was one of a number of distinguished guests who congratulated members of the Class of 2017. Along with the Admin Team at West Ashley High three City of Charleston councilmen, numerous District 10 Constituent Board members, along with several CCSD school board members were in attendance.
June 7, 2017
From Staff Reports
"These next steps are our defining moments that will establish our future," said West Ashley High School salutatorian Michelle Hammock. "Everyone should always have a goal, a passion, something you will continue to work hard to accomplish. We've all dreamed about how we want our futures to look, and in order to make those dreams come true we will have to put in the effort, make difficult decisions, and surround ourselves with good people." Hammock and 365 of her classmates from West Ashley High School were surrounded by 'good people' in the form of family and friends on Thursday, June 1st as West Ashley High held this year's graduation ceremony at the North Charleston Coliseum. Of the 366 graduates, there were 37 Board Scholars who graduated with a GPA of 4.25 or higher.
The Class of 2017 made school history by having fifty percent of its students graduate with a GPA of 3.0 or higher. "The truly amazing accomplishment of the class of 2017 is their academic achievement," said Principal Lee Runyon. "Fifty percent of our graduating class achieved a cumulative grade point average of at least 3.0, which is one of the requirements of the South Carolina Life Scholarship Program. The top ten percent of our graduates this year were CCSD (Charleston County School District) Board Scholars with a cumulative required GPA of 4.25 or higher. Our goal here at West Ashley High School is to help every graduate be college and career ready, both in terms of grades and financial aid qualification."
Both this year's valedictorian and salutatorian ended their high school careers with weighted GPAs of almost 5.0. Margaret Davis Huggins, this year's valedictorian, will attend Clemson University in the fall and major in Elementary Education. While at West Ashley High School, Huggins played JV soccer, was the captain of the Varsity Cross Country Team, a student ambassador, the secretary of the National Honor Society, a teacher cadet, a DECA member, a student athletic trainer, participated in Academic Bowl, and helped run The Bistro, all while maintaining a weighted GPA of 4.750.
Michelle Hammock, this year's salutatorian, will attend Clemson University in the fall and major in Culinology and Engineering. Culinology is the blending of culinary arts and the science of food. While at West Ashley High, Hammock was a member of the National ProStart Team, a completer in the Culinary Arts program, a member of the National Honor Society, ran a coffee shop with four other students out of The Bistro, and completed a culinary apprenticeship with Trident Technical College, earning her 24 credit hours, all while maintaining a weighted GPA of 4.570.
As has always been the case at West Ashley High, the graduating class was a diverse group of academically gifted students who were involved in a variety of activities both inside and outside the classroom. They were members of The Drama Studio, the Band, Chorus, the Yearbook Staff, and the National Honor Society; they were a part of the football, baseball, soccer, tennis, golf, cross country, basketball, and/or swim teams (several of which made it to the playoffs this year), or were members of SeaPerch, Culinary Arts, DECA, Robotics, Air Rifle, or Drill Teams that traveled to the State, National, and World level competitions this year.
More than 140 seniors graduated as completers in one of West Ashley High's 14 Career & Technology Education (CTE) career majors. Over 75 seniors completed internships and received high school credit. Three students were honored at the State House as outstanding Science Technology Engineering and Math (STEM) students, and one student recently completed an internship with Boeing and was hired as a full time employee this summer.
Nine student athletes signed to continue their athletic careers while they get their postsecondary education. Nick Denton signed to play baseball for Toccoa Falls University. Six students signed this year to play soccer while in college — three boys and three girls. Dalton Mixon and Irvin Rodriguez will play for the University of South Carolina, Aiken while Olufemi Olalere will play for the College of Charleston. Wingate University will gain Dazia Chandler, while both Cailyn Marietti and Taylor Jarrett will play for Spartanburg Methodist College. These two players mark a total of six girls from West Ashley High who have signed to play soccer for the college over the past three years. "In addition to having fun and working with other student athletes in high school, being able to play at the next level and have your college education paid for is hard to put a dollar sign on," said WAHS Athletic Director Richard Luden. "It's quite an achievement."
Two students, Sam Dowd and Dexter Freeman, signed to play football for Newberry College. Dexter Freeman holds the school record for most rushing yards in a game, season, and career with over 4,000 yards. Dowd is also this year's recipient of the General Excellence Award. This honor is bestowed by the faculty to someone who exemplifies the school's E5 mission statement.
Two other awards are handed out each year to exemplary students among that year's graduating class. The Rufus E. German Citizenship Award is given to a student who, during their four years at the high school exhibits true leadership through school activities, promotes the welfare of the school, and has a sense of responsibility and respect. This year's recipient was Hannah Farthing.
The other title, the Spirit of West Ashley Award, went to a male and female whose attributes are character, enthusiasm, loyalty, respect for their classmates and teachers, and who always give 100% while serving as role models for their peers. Both students are chosen by their peers. This year's recipients were Cailyn Marietti and Perry Jackson.
A number of students from West Ashley High School have also signed in a different way. Several students enlisted in the military and will ship out later this fall. Natalie Blake and Phox Truitt have joined the U.S. Air Force. Lyidha Aman and Javeon Bennett enlisted in the U.S. Army while Nyasia Smiley enlisted with the National Guard. The Citadel will have two new cadets from West Ashley High: James Bates and Garrison Prestwood.
More than 27 colleges and universities will be gaining former Wildcats in the fall as the Class of 2017 continues their education at the postsecondary level. Senior Class Sponsor Marshall Swindall could not be more proud of this year's valedictorian and salutatorian. "Our Valedictorian Margaret Huggins and Salutatorian Michelle Hammock are two intelligent and hard working young ladies," said Swindall. "Our hope is that they will continue to work hard and go on to successful careers in elementary education and culinary arts. Miss Huggins loves working with kindergarten through second grade children. Students will be fortunate indeed to have her as their teacher. It would not surprise me to see Miss Hammock excel in culinary arts and operate her own restaurant one day. She is a terrific cook and baker and is a shining example of success from the WAHS Culinary Arts Program."
This year marks the end of an era at West Ashley High School as one of the senior class sponsors, Ann Rustin, is retiring. Rustin and Marshall Swindall have been in charge of graduation since the high school opened in 2000. "The students and their successes have been what fueled me for all these years," said Rustin. "I continue to stay in touch with many of my former students. When they thank me for what I've done for them, I want to tell them how much they changed my life too. I wanted to teach to help them find their place in the world."
"We all made it here through a lot of hard work," said West Ashley High School valedictorian Margaret Davis Huggins. "We should be proud of this accomplishment but this diploma is not the end but rather a doorway to the beginning. When we look back on our lives so many things that seem important now won't really matter but what will matter are the dreams that through our hard work and perseverance have become memories for us to cherish. Dr. Seuss said, 'don't cry because it's over, smile because it happened'. With all of the memories we have made over the past four years we have a lot to smile about."