Above Board
Local Sailor Benjamin J. Frasier goes above and beyond to serve his country and his community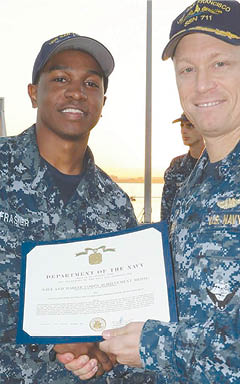 December 6, 2017
From Staff Reports
As the Fast Attack submarine the USS San Francisco SSN-711 continues preparation for converting into a prototype submarine for the Nuclear Power School in Goose Creek, there's one sailor who's excited about the anticipated conversion and soon to be homecoming.
Benjamin J. Frasier is from Hollywood, S.C., just south of Charleston in rural West Ashey. He is a Logistics Specialist Second Class Petty Officer onboard the 36-year-old submarine. Petty Officer Frasier, who celebrates a birthday this week, is the Leading Petty Officer of the Supply Department onboard assisting with daily operations onboard. He has been awarded the Navy and Marine Corps Achievement Medal.
"Since reporting to the submarine in May 2013 he has completed two Western Pacific Deployments and ambitiously qualified two senior watch stations which are usually stood by an E-7 and above," says LTJG Christopher Feyen, public affairs officer for the USS San Francisco.
While the submarine is home ported in Norfolk Naval Shipyard, Petty Officer Frasier has managed thousands of the ships parts throughout the Integrated Logistics Overhaul process.
Frazier continues to mentor young sailors throughout the sub, and while doing so the Baptist Hill High alum also assists with monitoring the youth alongside two Lowcountry non-profit organizations (Kidz4Kidz843 and Rural Mission) inside of the rural town of Hollywood. His parents live just up up Savannah Highway in West Ashley.