A Wish Come True
Stars aligned at Magnolia Gardens to benefit Make-A-Wish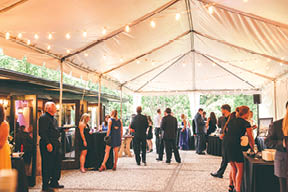 June 7, 2017
From Staff Reports
"An Evening of Jazz Under the Stars" raised more than $65,000 for Make-A-Wish South Carolina, a statewide charity that grants unique experiences for children with life-threatening medical conditions.
During the gala on Sunday, May 21, donors heard the emotional story of a precious wish child 13-year-old Ryan Durant of Goose Creek, and his parents, Michael and Jenny Durant. The family shared Ryan's tough battle with acute lymphoblastic leukemia and his wish to meet his favorite gamer and YouTube star Markiplier.
To make more wishes possible for other children donors placed silent and live auction bids on high-end items and dined on dishes prepared by some of Charleston's top chefs. The city's jazz ambassador Charlton Singleton and Contemporary Flow entertained a capacity crowd in Magnolia Plantation and Garden's historic Carriage House on the Ashley River.
Tom Johnson, Magnolia's executive director, said, "The success of this inaugural event not only speaks well for Charleston's generosity and the city's hospitality industry but also secures the likelihood this gala will become a premier fundraising event. It is our hope that we've established a long relationship with Make-A-Wish South Carolina."
Bill Tiller, the charity's president and CEO, said, "We are deeply grateful to the many great folks at Magnolia Plantation and Gardens for their partnership and generous investment in our mission to children facing life-threatening medical conditions. They understand the power of a wish to transform lives, and we are delighted to have them as partners."
The event was "a wonderful success by every measure, and we look forward to an even bigger and better time next year," he said. "I look forward to sharing with everyone a year from now the wonderful wish stories of the lives touched by the wishes funded in our inaugural year."
The evening was a showcase for Charleston's top chefs Michelle Weaver, Charleston Grill; April Robinson, Butter Tapas; Marcus Middleton, Middleton Made Cuisines; David Schuttenberg, Fish Restaurant; Anthony DiBernardo, Swig & Swine; and Sermet Aslan, Southernterranean Cuisine-Bar. Specialty items were provided by Beyond Expectations, Cane Rhum Bar and Naked Turtle Rum and Wild Flour Pastry.