A True Taste of Spain
The Castajóns Bring elegant but rustic cuisine from southern and coastal Spain to West Ashley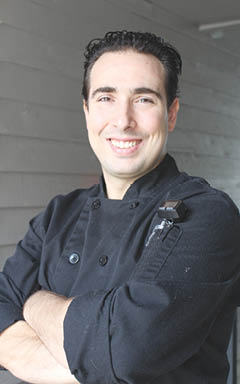 August 16, 2017
By Lorne Chambers | Editor
Last week was the debut of West Of's new food writer, Rachel Castajón. She is a local food blogger and photographer who will be contributing regularly to West Of's dining section. She, along with her husband Alfonso, is also one-half of The Castajóns, a Spanish food pop-up that sets up shop at Charles Towne Fermentory in Avondale every Tuesday and Saturday evenings.
Other than their regular twice-a-week gig at the popular West Ashley brewery, The Castajóns mostly do pop-ups at local businesses for a lunch or dinner service. They also have done small caterings and private dinners and various markets and festivals, like the Blue Pearl Farms Blueberry festival earlier in the summer.
The Castejóns make a pretty mean paella, which is a famous dish from the Spanish coastal town of Valencia. But Rachel says they put their own spin on the classic dish. "Traditional paella is rabbit and chicken, but because we are in the seafood abundant Lowcountry, we like to add that in as well," she says.
Another favorite when they have it is the serranito (a pork loin sandwich with serrano ham, poblano peppers, and fried egg). "This sandwich is on vacay right now because we served so much of it I got tired of looking at it," says Rachel. "Plus we are taking advantage of summer produce and goodies for now." She says the most popular item on the current menu is probably the brocheta, which is a chicken and sausage skewer marinated in and topped with mojo picón, a spicy garlic sauce from the Spanish Canary Islands. It's served it with a spicy aioli sauce.
"We do a lot of street food from the south of Spain. We also love to recreate food from other areas of Spain that we visit. You'll notice some inspiration on our menu sometimes from the northern region of the Basque Country, where we both visited earlier in the Spring for the first time," says Rachel, who met Alfonso in his hometown of Seville in the southern region of Andalusia, where she was taking a class for teaching English as a foreign language back in 2008.
"The last night of the class my classmates and I went out and I met Alfonso at a bar … Haha! It was love at first shot," says Rachel. "We eventually married, lived in Seville for around four years while I worked and Alfonso finished his degree, then we moved back to Charleston so I could finish my degree at the College of Charleston that I had started way back in 2004."
Shortly after moving back to Charleston, Rachel started doing some food photography and writing. Due to troubles getting his Pedagogy (education) degree from Spain validated here, Alfonso went back to what he knew best: restaurants. So the business kind of grew from there. The Castajóns is a food blog with great photos and stories about their culinary travels, but it is also a pop-up restaurant.
According to Rachel, Alfonso has worked in restaurants since he was 18 years old (legal working age in Spain), starting with a Pizza Hut in Seville and then at an upscale Argentinian grill as he finished up school in Spain.
"He began culinary school at Trident Technical College in North Charleston a couple of years ago and is finishing it up little by little as we build up our business," says Rachel. Since he has been in Charleston Alfonso has worked in various local restaurants including Al Di La in West Ashley, Edmund's Oast downtown, and Coda del Pesce in Isle of Palms.
Alfonso credits Chef Joaquin Bustos, from his time at Al Di La (currently at Muse downtown) and Chef Andy Henderson (formerly of Edmund's Oast), and his professors at Trident Techical College with guiding him and teaching him at different moments over the years.
This Fall, Rachel says The Castejóns' menu will become more Spanish-fusion than just traditional Spanish, utilizing Alfonos's professional background in Italian food and what he has learned since being in the U.S. from culinary school and from Rachel's family, who are spectacular home cooks. "We will use all of Alfonso's culinary knowledge and delve in to some combo Spanish/Italian and Spanish/American. We are a dual nation household, so we decided to start cooking like so," says Rachel.
"We hope to eventually open a small-to-medium size restaurant serving elegant, but rustic dishes. Heavily Spanish, but with some touches from my Southern American background and Alfonso's Italian training," says Rachel. "I hope to continue writing about food and taking mouth-watering photos for us and for other restaurants and food and beverage events."
Follow The Castajóns at www.thecastejons.com or on Instagram at @thecastejons.