A True Friend To Our Schools
Paisano's Pizza Grill is a strong supporter of West Ashley schools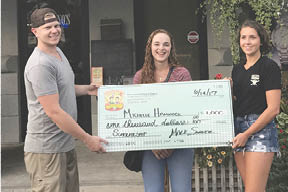 In June, West Ashley High School student Michelle Hammock received the Dean Britt Scholarship from Paisano's Pizza Grill in West Ashley.
August 8, 2017
By Lorne Chambers | Editor
For the last century, there have been few industries in the United States that are more rooted in their respective community than the local pizzeria. And while chain pizza places have done little to carry on this tradition, there are still local pizza restaurants in almost every community across the country, tossing their dough by hand and supporting their local neighborhoods with more than just providing delicious pies.
Paisano's in West Ashley is a prime example of a local pizzeria that sees their role in their community as much more than just a restaurant. Since opening its second location on Ashley River Road in 2012, Paisano's has been involved in the local schools and the youth of West Ashley.
"When you give back to the community, it gives back to you," says Mark Slater, who co-owns Paisano's along with his longtime business partner and friend Nick Skover. "We compete with 10 other pizza places with a few minutes of us, so we realize you have a lot of choices."
Slater manages the West Ashley location and Skover handles the original James Island location, which opened in 2009. Both locations are very involved with the local schools in their respective communities. But earlier this year, Paisano's West Ashley took its commitment to West Ashley schools a step further.
In addition to sponsoring West Of's Student of the Month, being an official drop location for school supplies, and holding spirit nights where they donate as much as 30 percent of their profit to a West Ashley school, Paisano's has also offered a $1,000 scholarship to one West Ashley High School senior each year for the past two years and Slater says they intend to continue doing so moving forward.
Last school year, Paisano's awarded Michelle Hammock the Dean Britt Scholarship, which is named after a former Paisano's employee who tragically died in a kayaking accident. Slater says the scholarship is meant for someone who shows business acumen and an entrepreneurial drive.
Slater says that Hammock totally embodied the spirit of the scholarship and that he was very impressed with her ambition and professionalism for such a young woman. Hammock was nominated for the award by Jason Wheless, Culinary Arts Instructor for WAHS. He noted that Hammock and her classmates helped start a business while at WAHS. Breakfast in the Bistro, in the WAHS Culinary dining facility. She also won first place at Limehouse Produce's 2016 Fall Cornucopia Cook-Off, which features young local chefs.
In addition to the work Paisano's does directly with West Ashley schools, they also sponsor several youth sports teams and are actively involved in Yes Carolina!, a youth entrepreneur mentorship program, founded by West Ashley resident and former State Rep Jimmy Bailey.
While Paisano's Pizza Grill is best known for their made-from-scratch hand-tossed pizzas, sandwiches, and salads, they also have a recipe for building a better community — investing in our youth.