A Taste of Philly
DB's Cheesesteaks does not Disappoint in Bringing The taste of the City of Brotherly Love to the Holy City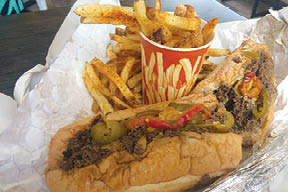 June 7, 2017
By Lyndsey Medford | Contributing Writer
The lunch rush is still winding down at 2 p.m. on a Wednesday, but Danny Bailey manages to slide off the line, still in his apron, to chat about his new restaurant, DB's Cheesesteaks, which opened recently in the popular Avondale Business District. He's a tough-looking guy in his early 40s, but get to talking to him and you'll quickly get past his gruff exterior. He's clearly happy to be back in the cheesesteak business.
"It's good to know people remember you," he says. DB's Cheesesteaks may seem like a newcomer to the scene, but it was a James Island mainstay from 2006-2010 until the economic crash sent the business on an extended hiatus. Bailey had some success in the landscaping and pizza businesses, but jumped at the opportunity to sling grinders again in the new Avondale location. Now those customers from years ago are gleefully returning to express their appreciation for DB's second coming.
Bailey, a Delaware native, first visited Charleston in 1994 and couldn't resist returning for the warm weather and warm people. "I felt peaceful here," like this could be a place to settle. He finally made the move in 2006.
Charleston is now home for Bailey, but Philly cheesesteaks are in his blood. He grew up around his parents' neighborhood restaurant: "My granny did them in the '60s; my parents did them in the '80s; now here I am," he says. It's a proud tradition even for those from that part of he country, even if you don't own restaurants. "You don't insult someone's steak. It's like insulting a family member." Guests have traveled from Hilton Head and Augusta, Ga. just to get that taste authentic Philly taste.
DB's offers hoagies, burgers, and hot dogs, but how could anything beat the classic cheesesteak? Don't think about it — just grab the beloved combination of juicy beef, onions, and white American cheese on a white roll from Philly's Amoroso bakery.
Almost as famous as the cheesesteaks's DB's handcut fries are some of the best you'll find in Charleston. If you're not a fry person, there are bags of Herr's potato chips, a Philly favorite, for sale at the counter. Also don't miss the Boylan's Birch Beer on tap either; like root beer with a strong bite, it cuts through the grease and rounds out the Philly experience. There's something immensely satisfying about the whole thing, even if you're not from Philly—and even if you're not hungover. "Saturday afternoon is our busiest, when everyone's waking up," says Bailey. He also plans to extend Thursday, Friday, and Saturday hours to at 3 a.m. Eventually, he hopes for a patio and even a rooftop garden.
Given the immense success DB's has already enjoyed so far, Bailey already has his sights set on Summerville and Mt. Pleasant for additional locations. He mentions hopes of owning a seafood restaurant, but in the near-term he's more concerned with growing DB's Cheesteaks to the point that he can focus on his real life goal: starting a foundation for children with autism. "That's the most important thing I'll ever do," he says. We all might agree with him on that, but those cheesesteaks are pretty dang important, too.
DB's Cheesesteaks is located at 2 Avondale Ave. For more information, call 225-3231.