A Sweetheart From The South
Singer/songwriter Laura Jane Vincent performs with a unique southern style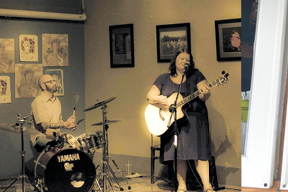 Laura Jane Vincent plays with her bandmate and husband, drummer Dave Tippetts. (Photo by Chris Lubinski)
May 26, 2016
From Staff Reports
You'll find Laura Jane Vincent performing everywhere from clubs to coffee shops, art galleries to festivals, and everywhere in-between. This multi-instrumentalist, singer, and songwriter will play the Tin Roof in West Ashley Thursday, May 26.
Hailing from North Carolina, Vincent writes personal ballads of strength, loss, and triumph that feature folk tales of those who should know better but just simply can't help themselves. Her original, soothing, but powerful sound comes from years of tutelage by her father and various other professional songwriters, classical musicians, and indie artists that she has surrounded herself with her whole life.
Vincent performs hundreds of concerts and shows every year, traveling the northeast and the south. Always expanding her routes, she's a constant touring force, longing to share her original music with any and all who will listen.
After living and learning in several music scenes (including years in Charleston, Asheville, and the Piedmont Triad of North Carolina), she now lives in southeastern rural North Carolina in a 200-year-old farmhouse with her bandmate and husband, drummer Dave Tippetts, and a general assortment of furry misfit animals.
She recorded and mixed her first full length album, For A Sweetheart From The South at world famous Echo Mountain Recording Studios in Asheville, which has worked with everyone from the Avett Brothers to Band of Horses. The album is available on CD and limited edition colored vinyl through her website, iTunes, and at any of her live shows.
Laura Jane Vincent plays Thursday, May 26 at Tin Roof, located at 1117 Magnolia Road. For more information, call 571-0775 or visit www.charlestontinroof.com.