A Pat On The Back To Grooms, Sheheen For Practical Roads Bill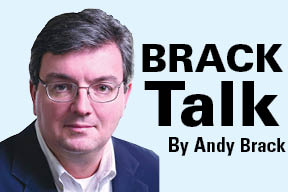 May 3, 2017
By Andy Brack | Contributing Writer
Larry Grooms and Vincent Sheheen pored over spreadsheets for weeks looking for a solution that hornswoggled their state Senate colleagues for three years: A practical way to raise the state's gas tax to fix roads.
By Wednesday, an idea by Republican Grooms – allowing state drivers to get rebates of their portion of the 12-cents-per-gallon hike in the gas user fee – blended with tax cut priorities by Sheheen, a Democrat, to cobble together a piece of winning legislation. While Sheheen brought a solid bloc of the minority Democrats to the table, Senate President Pro Tem Hugh Leatherman, R-Florence, and Grooms delivered a group of moderate Republicans who stuck together, vote after vote, to thwart filibuster threats and get the bill passed.
"We got together on this one and, I think, we hit a home run," said Grooms, who chairs the Senate Transportation Committee.
Former GOP gubernatorial candidate Tom Ervin, who recently released a song called "Pothole Blues" to pressure lawmakers on the gas tax, observed the system works, albeit slowly: "It takes persistence and patience and takes a three- to four-year cycle to get a piece of major legislation that involves a tax or user fee."
What makes the story about the Senate's solution compelling is the back-and-forth between Grooms and Sheheen to craft something that would work.
A stumbling block, Grooms said, has been the notion that any gas tax increase had to be tied to reform at the state Department of Transportation, something long sought by hard-line Republicans. But all of the reform in the world in how the department is managed won't mean anything for roads unless there is more money to fix them, Grooms argued. That notion took some time to sink in with some folks, he said.
Then came the concern about where the burden of a gas tax increase would fall. Was there a way to put more of the burden on out-of-state purchasers of fuel? What developed was a mechanism to give rebates to state taxpayers who keep receipts from fuel and maintenance expenses to use to file as allowable expenses to lower their state income tax burden and offset the gas tax hike.
What Grooms likes about this idea is that if a family pays more in gas taxes, they'll get a bigger rebate, which reduces their burden. And if people don't keep up with all of the paperwork, guess what? The state keeps the money for more road fixes. (And, as you probably figured out, most people won't want to put up with the paperwork headache for a credit worth $30 to $100 a year.)
Now comes Sheheen's role. He and the Democrats essentially said if Republicans wanted extra tax cuts in the gas tax package to make it more attractive, the tax cuts needed to be focused on offsetting the regressive nature of a gas tax increase. Translated, that means additional cuts needed to help lower-income South Carolinians more than rich ones, who can afford a tax hike more easily.
So Sheheen suggested adding a state-based Earned Income Tax Credit – something progressives have wanted for years to reward the working poor by giving them more cash. Also included were increased tax credits for families where two wage-earners work and an enhanced college tuition tax credit to make higher education more affordable for the average South Carolina family. The Senate bill also includes business-friendly tax relief that should help small businesses reduce burdens brought on by poorly-designed property tax shift legislation several years back.
This Senate plan now heads to a conference committee with the House, which has passed proposals by big margins for three years to spend more to fix the state's deteriorating roads. The Senate bill, with its bevy of tax relief measures, is far different from the House bill, which simply sought a 10-cent-per-gallon gas tax hike. But because the Senate has finally passed something – and because there's a lot in it for everybody to like – it might be tougher for Gov. Henry McMaster to veto.
Hats off to Grooms and Sheheen for doing what many people find remarkable – working together in a bipartisan manner to come up with something practical.
Andy Brack is editor and publisher of Statehouse Report. Have a comment? Send to: feedback@statehousereport.com.