A Noble Hospitality
MEX 1 Coastal Cantina Beverage Director Wins Souls + Saints: Dia de los Muertos Cocktail Competition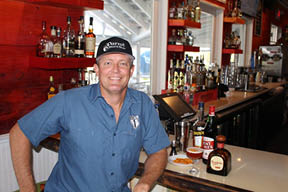 November 30, 2017
From Staff Reports
Mex 1 Coastal Cantina's Beverage Director, Morgan Hurley, was named the winner of the 2018 Charleston Wine+Food Festival official Cocktail Competition, held as part of the Souls + Saints: Dia de los Muertos event earlier this month. Hurley's winning cocktail is "A Noble Hospitality," and features Don Julio Reposado tequila, Aperol aperitif, Punt e Mes vermouth, pineapple juice, Vida mezcal (rinse), and dehydrated orange (garnish). The winner was chosen by a panel of Food and Beverage industry judges.
Hurley will receive a feature in Imbibe Magazine, spotlights at Charleston Wine + Food Festival events including being the featured cocktail for the opening ceremonies on February 28th, and a $500 cash prize. The event, hosted by Charleston Wine + Food Festival and sponsored by the Charleston City Paper, featured delicious Latin cuisine from some of Charleston's leading local chefs.
"I am thrilled to have won the 2018 Charleston Wine + Food Cocktail Competition." Hurley said. "There was some tough competition this year, including going up against my own bar manager, Shannon Standhart. Tequila is a central part of our beverage program at Mex 1 Coastal Cantina and I feel this cocktail represents the spirit well."
Both drinks are now available at Mex 1's two locations, in West Ashley and Sullivan's Island.
"The entire Mex 1 crew is very proud to have had two finalists and the winner of the Wine + Food Cocktail Competition. It's so gratifying to have Mex 1 represented in such a prominent event," said Mex 1 owner Dave Lorenz.
Tequila cocktails have always been part of the foundation of what makes Mex 1 special. Mex 1 uses only 100% agave tequila and all margaritas are made with freshly squeezed juices. Mex 1 has an extensive tequila, rum, and mezcal selection. Hurley handpicked all of the brands now being stocked after two trips to the Mexico and focuses on brands that utilize more traditional techniques and promote sustainability in the region. Their selection is highlighted by their own specially crafted tequila: Mex 1 Herradura Double Reposado. Distilled in Amatitán, Jalisco, Mexico, Herradura Double Reposado has notes of agave, caramel, vanilla, and a touch of spice.
Morgan Hurley will be a host of Charleston Wine + Food Festival's Te Amo, Tequila: A Tequila Beverage Workshop, Saturday, March 3, 2018 at 4pm. Mex 1 will host a Tequila Luncheon during the 2018 Charleston Wine + Food Festival on Friday, March 2 at 12 p.m. at its Sullivan's Island location.