A Musical Throw-Back
Micah Scott brings his gritty roots rock to Tin Roof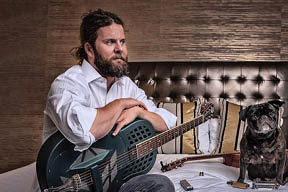 July 4, 2017
From Staff Reports
Micah Scott is a singer/songwriter who was raised in a small northern New York State town with Revolutionary War bones in the fields he grew up around. So it's no wonder that he has a penchant for history, be it American or Americana. Born in 1978, he developed a retro taste early. When the rest of the world was listening to Debbie Boone and Meat Loaf, Scott was more drawn to The Ventures, Creedence Clearwater Revival, and the Beatles.
Scott says he lost the plot in his hormonal years, detouring briefly into Pantera and later, an Alice in Chains phase. When his guitar teacher turned him onto Blind Lemon Jefferson and Robert Johnson, the die was cast. Today, he counts as seminal influences Muddy Waters, Big Bill Broonzy, Mississippi John Hurt, and John Fahey.
It was this attraction to Piedmont and Delta blues sounds that drew him south — way south, to Jupiter, Fla. Armed with an honors degree from the Crane School of Music, Scott began getting roots-music cred playing every gig he could. Dim, greasy dive bars. Then more upscale blues clubs; and finally, music festivals.
Seven years later, Scott co-founded a popular South Florida band called The KillBillies, which has grown a grass-roots following along the coast. Recently, Scott recorded his first album, Dark Horse, on a break from an East Coast solo tour. It was recorded over the course of three weeks in Philadelphia—another place steeped in American history. The album debuted at #1 on the Amazon Roots-Rock chart, and the single, "Step Outta Line," came in at #1 on the Amazon Alt-Country and Americana chart.
Scott's debut arrived fully-formed; not in the auto-tuned, quantized, Pro-Tooled fashion of the 21st-century digital download, but in the old-school way. Dark Horse succeeds on solid writing, honest talent, ace musicianship, and hand-crafted production. It's deeply reassuring that an old soul like Micah Scott is the artistic engine behind it.
Micah Scott will play Monday, June 26 at the Tin Roof, located at 1117 Magnolia Road. For more information, call 571-0775 or visit www.charlestontinroof.com.