A Family Tradition
El Dorado is reborn as Los Reyes Mexican Restaurant in Ashley Oaks Shopping Center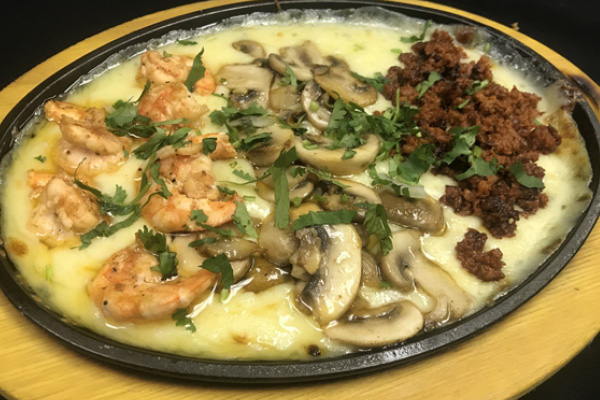 April 4, 2018
By Lorne Chambers | Editor
There's no less than a dozen places in West Ashley to get Mexican food these days, not counting the numerous non-Mexican restaurants that have a taco or quesadilla option on their menu. But long before there was a Mexican restaurant on every corner, there was El Dorado on Savannah Highway. Some may even recall before that it was briefly named El Toro.
Jesús Reyes was a kitchen supervisor for the El Toro restaurant chain when it first came to Charleston in the mid 1980s. Reyes, who is originally from Mexico, moved from Georgia to Charleston to help open the restaurant. Eventually, Reyes branched out on his own and renamed the restaurant El Dorado, which became a staple in West Ashley for three decades. He also opened the once-popular Los Loros on Coleman Boulevard in Mt. Pleasant.
Back then, the only Mexican food offerings in West Ashley were Cisco's Café on Sam Rittenberg Boulevard and a Chi-Chi's chain just down the street from it. Both of those places have long since closed.
But Reyes is still here. Although not as El Dorado, which closed its doors a last month to make way for Los Reyes, the brand new Mexican restaurant which just opened on the corner of Wappoo Road and Highway 61 in the newly renovated Ashley Oaks Shopping Center. Since opening its doors on Wednesday, March 21 Los Reyes has been packed for lunch and on a wait for dinner.
Jesús Reyes' daughter Erika Reyes says her father is still involved in the business, but more in an advisory role as he watches his children succeed with the new West Ashley restaurant as well as their other two restaurants in North Charleston that also bare the family's name, which literally means "King" or "Royalty." Thus the crown adorning the "R" in the restaurant's logo. And the Reyes truly are restaurant royalty in Charleston, particularly in West Ashley, where they have lived and owned a restaurant for more than three decades.
"It is very much a family business," says Erika, who attributes their tight-knight family bond as the secret of their success. "We work as a team to run the business and we run it as a family." Her mother Maria is also still very much involved in the business as well as her brother Marco and her sister Brenda, who is also a local art teacher. Erika's husband José Hugo Angel has also worked at the family business for almost two decades.
According to Erika, the family had been looking for a new space for quite a while, but it was important to stay in West Ashley since that is where they live and where it all began.
Many loyal El Dorado customers were concerned the new restaurant might not have a lunch buffet, since neither of the Los Reyes in North Charleston have one. Erika said they considered not putting in a buffet at the new West Ashley location, but knew many people would be disappointed. So a new, nicer buffet is offered at lunch seven days a week at the Los Reyes in West Ashley.
As for Los Reyes' extensive menu, you won't find the standard "order-by-number" fare that most Mexican restaurants offer. Erika says Los Reyes strives to be a step above other places, mixing classic Mexican dishes with some personal family recipes. For the more adventurous diner, they even have lengua tacos (beef tongue) and ceviche offerings. On Saturdays, the Los Reyes on Ashley Phosphate Road offers menudo, a traditional Mexican soup, made with tripe (beef stomach). While menudo is not currently available at the West Ashley restaurant she says they may add it eventually. Of course, the West Ashley menu also has standard dishes, like fajitas and chimichangas, as well as more authentic dishes like Chilaquiles and carnitas.
There are also regional influences on the Los Reyes menu too, says Erika, whose father and husband are both originally from a town near Guadalajara, the capital city in Jalisco, Mexico. So you'll also find dishes like the Guadalajara Special, Steak Jalisco, and Mojarra Jalisco, which is a whole fish with grilled shrimp, onions, tomatoes, and ranchero sauce.

Los Reyes is located at 1119 Wappoo Road, Unit Q in the Ashley Oaks Shopping Center. For more information, call (843) 763-0699 or visit www.losreyesmexican.com.