A Collaborative Craft Dinner
2Nixons teams up with Charles Towne Fermentory for charity beer dinner, benefitting west Ashley non-profit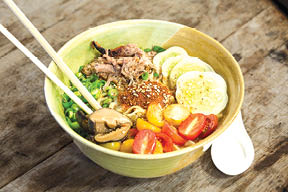 August 31, 2017
By Lorne Chambers | Editor
It only makes sense that Charleston's world-class culinary scene and emerging craft brewing scene would collide. This has never been more evident with the fifth annual Charleston Beer Week kicking off next week. West Ashley will play host to several events this year, but perhaps none more intriguing than the special charity beer dinner held at 6 p.m. on Saturday, Sept. 9 at Charles Towne Fermentory, featuring local acclaimed Asian pop-up restaurant 2Nixons.
The ticketed event is a fundraiser benefitting the Charles Webb Center, a West Ashley-based developmental day care serving children with special needs.
For 2Nixons' chef and owner Jeffrey Stoneberger, this is a special event. Stoneberger has a son with autism, so when Charles Towne Fermentory founder and head brewer Adam Goodwin told him about the work that the Charles Webb Center is doing in our community, Stoneberger saw an opportunity to do something to help. But giving back to the community is nothing new for Stoneberger.
"This year we have done events benefiting Lowcountry Autism foundation, St Jude's Children's Hospital, Shane Widdon's family (the Virginia's chef who was killed recently), and hurricane victims," says the Michelin Star-trained chef.
While 2Nixons is no stranger to doing charity work, it is also no stranger to the local craft beer scene. You can often find them set up at Craft Conundrum in West Ashley or at a local brewery slinging steaming bowls of ramen.
It's a perfect fit for craft beer drinkers with discerning palate, who want something more than just greasy pub food with their IPA or Saison. Fancier food was something that was once exclusively reserved for wine drinkers. But now American craft brewers have changed the game and have found a kinship with chefs, like Stoneberger.
"I am technically a sommelier, so we actually use the same characteristics. We pair based on things like salinity, texture, acid, bitterness, etc …" says Stoneberger about pairing food with beer.
"We go right after delicious and avoid the distractions of being trendy or doing the latest thing," says Stoneberger. "We specialize in fermentation and grilling our food over Japanese charcoal called Binchotan and hardwood, usually oak or hickory."
For the Beer Week dinner Stoneberger will be designing and executing a five-course meal right inside the brewery, which also has a full kitchen that usually hosts several rotating chefs every week. Each course will be prepared while Charleston Fermentory's head brewer Goodwin pairs each plate with his beers, including some brewed exclusively for the dinner. There will also be a live-blended barrel-aged farmhouse ale pulled directly from used Chardonnay barrels for the event. Each course and pairing will be discussed by the chef and brewer.
Stoneberger is not announcing the menu in advance because he creates his foods based on what is the best and most delicious thing available at the time on that day. "The ripeness of a product will effect how you will use it. Like an overripe tomato has so many uses, but if you just want to do a dish based off of a technique, you force the ingredients … we don't do that," says Stoneberger, who was the former Chef de Cuisine at the acclaimed Two Boroughs Larder downtown before starting Two Nixons. Prior to that, he was the pastry chef at Butcher & Bee and worked in the kitchen at McCrady's Restaurant. Earlier in his career he trained at the renowned restaurants French Laundry in California and The Fat Duck in England, both have been named Best Restaurant in the World. He's also worked as a chef at renowned Manhattan Italian restaurant Del Posto
Posto and as the resident forager for San Francisco's highly-revered Saison.
While Stoneberger's training and background might be with more upscale restaurants, he has taken his knowledge and passion for cooking and created something unique and affordable with 2Nixons.
"We don't feel the need to price gouge you with unnecessary pretentious non-sense that doesn't affect your eating experience, like fresh flowers and a special chair for your purse," says Stoneberger. "We couldn't find a suitable restaurant space where we could do what we wanted without making too many changes to the overall customer experience so we just took to plastic tables and said go."
If you've never had the pleasure of experiencing a beautifully-created ramen bowl from 2Nixons or tasting Charles Towne Fermentory's hand-crafted ales, you can get a taste of both this Friday when 2Nixons sets up inside the Avondale brewery.
Tickets for this event are $75 each and can be purchased at  www.charlestonbeerweek.com.