A Bumper Crop
West Ashley High has record-setting signing year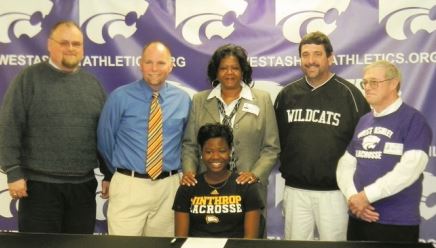 U.S. Top 25 recruit, Karen Grant will play for Winthrop.
November 27, 2013
By Bill Davis
Thanks to West Ashley High School's refocused academic structure, the school's athletic class of 2014 is turning out to be one for the record books.
This year, for the first time in anyone's memory, there are already five student-athletes who have signed national letters of intent to play college sports, according to Richard Luden, WAHS's athletic director.
Luden said that there are several other athletes expecting to sign letters of intent, but aren't through with the process of selecting a college program. The additional kids could increase the number of signees to as many as nine.
"In years past, we've had as many as four signing-day kids," said Luden. "Some years, we didn't have any." So far there have been a handful of significant signings with more to come when soccer and football's National Signing Day in February.
This year's big five commitments … so far:
Dekeiya Cohen, the 12th best girl's basketball wing in the nation, according to ESPN, who has signed to play at Baylor University, which challenged for the national title last year with all-everything Britney Griner. Cohen comes from a family of WAHS star athletes, and the WAHS girls basketball team is ranked preseason number one in the state, too.
Caroline Cashion, known to many as the kicker for the Wildcats' football team, is better known to college recruits as the three-star soccer player who has verbally committed to play at the Citadel next season, where she's expected to major in biology. Soccer's official signing day isn't until February.
Karen Grant, ranked by one recruiting service as the 24th best lacrosse player in the state, is staying in-state at Winthrop
Lacrosse teammate and attacker Aaleeyah Brimmer is headed up north to Boston, to Emmanuel College.
And last week change-up pitcher Tucker Moring signed to pitch at the College of Charleston.
When asked why the sudden increase in turning out college athletes?
Luden said that the school's current "four-by-four" academic system, whereby students take the same four classes every day for a full semester, might turn out to be more conducive for student-athletes to stay on top of their studies.
In the past, when the classes were yearlong, but met every other day, Luden felt it was easier for past graduating classes to lose focus with an off day in the classroom. Focusing for 90 minutes a day, every day, on an academic class, he says, is really paying off.
And not to mention potentially saving the student-athletes' parents some dough. While some of WAHS bumper crop won't receive full scholarships, anything can help.
Consider that full cost of attendance, including everything from tuition to spending money, at the Citadel is more than $25,000 a year, according to a popular college cost tracking website, www.collegedata.com. And that would likely be the cheapest of the five, as it includes room and board. Baylor, by contrast, costs $53,000 a year.
For the parents of these student athletes, those numbers will undoubtedly put a smile on their faces. But for the athletes themselves, it's about more than the money. Luden remembers when baseball great Tommy Lasorda offered Drew Meyer an enormous bonus to turn pro. Instead, Meyer, a former West Ashley resident, became the first pick of the Texas Rangers in the 2002.
Before going to the pros, Meyer spurned Lasorda and turned down the money to attend the University of South Carolina, where even he wasn't even given a full scholarship but earned All-American honors. He is currently a student assistant coach at USC.
Unlike Meyer, who played his high school ball at Bishop England, Moring has chosen to play at WAHS. The fact that talented players like Moring are choosing to play at the still young high school, represents a change in attitude perhaps.
Many of West Ashley's talented baseball players, like Moring, have in the past opted to attend the James Island Charter High School to play for high school coaching legend, Tom Hatley or take their talents to other regional schools, like Bishop England, that recruit from more than one district.
"If West Ashley High School had all the kids that lived in West Ashley, phew, no one could touch them," said Walker, who also lives in West Ashley.
Moring's dad, Danny, has been bowled over by the academics at the new school. "Tucker will tell you; he's working pretty hard" to maintain a good grade point average.
The father, who owns a West Ashley preschool, First Klass Early Childhood, was impressed enough with the full program, including academics and athletic conditioning, at WAHS that he didn't consider James Island.
While Moring has his whole college career ahead of him and the goal of pitching in the majors, he still has one more year on the mound for the Wildcats. And his goal for this season is simple. "A state championship," he says. "We've never won one here and so that is what I'm looking forward to."