A Birds-Eye View
Aerial photographs from 28.5 Photography lands at The Schoolhouse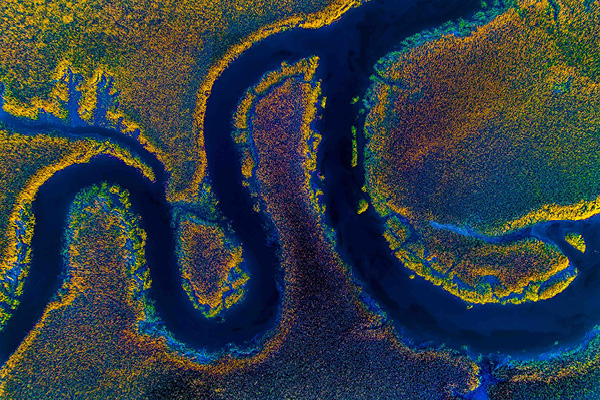 28.5 Photography
April 4, 2018
By Lorne Chambers | Editor
Technology has changed just about every industry imaginable. Art is no different. It has changed the way we receive and consume art, but it has also changed how it's made in some cases. Nowhere is this truer than in the medium of photography.
Beyond the obvious shift from film to digital, there are whole other avenues opening up now that are creating new ways for photographers to capture images, which create quite literally new ways for us to see the world. This is something local photographer Jason Ogden of 28.5 Photography has seized on to and carved out a niche with his strikingly beautiful Aerial photography.
"The drone is like a flying camera tripod. It allows me to put my camera in the best position to get new and interesting perspectives in my photographs," says Ogden, who didn't get serious about photography until after he bought his first drone in September 2016.
"Initially, it was just a fun hobby and a way to get a better perspective on the beach erosion at the north end of Sullivans Island," says Ogden. "I started to get serious about photography as art in early 2017 after I got my FAA Part 107 drone license."
These days Ogden flies a DJI Phantom 4 Pro+ drone, which has a camera capable of taking 20 megapixel still images and 4K resolution video.
According to Ogden, the most interesting aspect of aerial photography is seeing the beautiful natural patterns in the marsh and man-made patterns of subjects like bridges and cargo ships in the harbor from above. "These 'overview' images are striking and change how I look at the world," says Ogden. "With a standard camera, you are limited to shooting from the ground, which can be very restricting, unless you have access to a helicopter or airplane."
Ogden says his favorite subject matter lately has been the cargo ships that come in and out of Charleston Harbor every day. "The colors and patterns of the containers are fascinating to me and always make me wonder where the ships are coming from and what is in all of those containers," he says.
For April, Ogden's 28.5 Photography will be the Artist of the Month at The Schoolhouse in West Ashley. Curated by Straight To Art, there will be an artist's reception on Thursday, April 19, from 5-8 p.m. Southern Olive Bites (SOB) will provide snacks for the event. Using old family recipes, SOB makes their products on site in the Schoolhouse's commercial kitchen.
"This show will have a good mix of my work but will feature several cargo ships and a few 'overview' marsh images printed on metal," says Ogden. The exhibit will be up through the end of April.
For more information about 28.5 Photography or visit www.straighttoart.com  or www.station285.com. An artist reception will be held April 19, 5-8 p.m. at The Schoolhouse, located at 720 Magnolia Road.