A Barrel Full of Pumpkins
Barrel-aging gives pumpkin beers A much-needed edge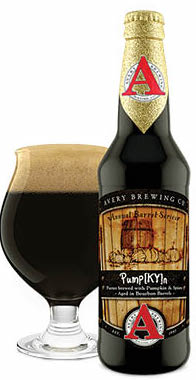 October 4, 2017
By Jeff Gredlein | The Beer Snob
Beers and barrels have a long and torrid relationship. Historically, if you go far enough back, you'll see that most beer came in contact with wood at some point. So, letting beer hang out in a barrel is nothing new, although with the dearth of beers out today having 'spent time' in wooden barrels, you might think it so.
Most English Barleywines and old ales are held in the wooden containers. In fact, old ales get their name from the aging process they undergo after brewing, where beers are kept in wood vessels to mature and gain character.
But it wasn't just the English who were keeping beer in barrels. The Belgian brewers were certainly putting their sour ales into these types of vessels, amongst other styles. And German brewers too were likely keeping some of their stronger beers, possibly Doppelbocks and Altbiers, in wooden containers.
Storage of beer in barrels was once the only method of keeping ale before it was to be drunk. But, these vessels were coated on the inside so to keep the wood flavors away from the brew.
In more recent times, brewers have begun 'barrel-aging' brewed beer in containers previously holding a variety of liquors, most often bourbon, to import even more exotic flavors to their beer. Today, it's not unusual to see any variety of liquor barrel used, and even wine-barrels have gotten into the fray.
Most barrel-aging is saved for the strongest and darkest beers (Russian Imperial Stouts and Old Ales are often aged this way), although other styles can get this treatment. However, a few of the seasonal pumpkin beers have received the aged treatment over the last few years, and now that pumpkins are actually on the farmer's stand (weren't we seeing pumpkin beers back in July? Hmmm…), let's get to those gourds.
Heavy Seas The Great'er Pumpkin, is an Imperial Pumpkin Ale made "greater" by a spell of bourbon barrel aging. A 9 percent alcohol by volume (ABV) on this beer means this is no session brew. An overwhelming beer to say the least, some bourbon barreled beers almost seem to be a half & half beer and bourbon concoction, and the Great'er Pumpkin is heading in that direction. Think all the pumpkin spices combined with the boozy flavors of bourbon, oak and vanilla. Some pumpkin is in there if you look, but your tongue and taste buds might be too drunk with flavor to find it.
Uinta Brewery's Crooked Line Oak Jacked Imperial Pumpkin Ale is, to me, what a high gravity, barrel-aged pumpkin ale should be. Crooked Line, a small batch of beers from Uinta, is not overwhelmingly boozy; the 10.31 percent (Hey Hey Halloween) ABV is moderately well hidden in the brew, being aged in oak and not specifically bourbon barrels. This beer is spicy, rich, slightly sweet, and boasting of pumpkin and pie flavors. A fuller mouthfeel only adds to the luxurious drinking aspects of this imperial ale.
And only last week, I snagged two bottles of Avery Brewing Co.'s take on the style, the 15 percent ABV, Pump[KY]n. This pumpkin ale is a porter brewed with Pumpkin & Spices, aged in Bourbon Barrels. The bottle lists rocky mountain water, malted barley, flaked oats, pumpkin, nutmeg, cinnamon, allspice, cloves, hops and yeast. A bit on the sweet side, it's luscious, boozy, woody, spicy and delightful. Enjoy the brews … Cheers.
Gene's Haufbrau has at more than 200 beers in bottles or on tap. While they don't have every beer the Beer Snob writes about, they probably  have most. E-mail the Beer Snob at publisher@westof.net.