A Baaaaa-d Hair Day
Middleton Place hosts event for shearing its Gulf Coast Sheep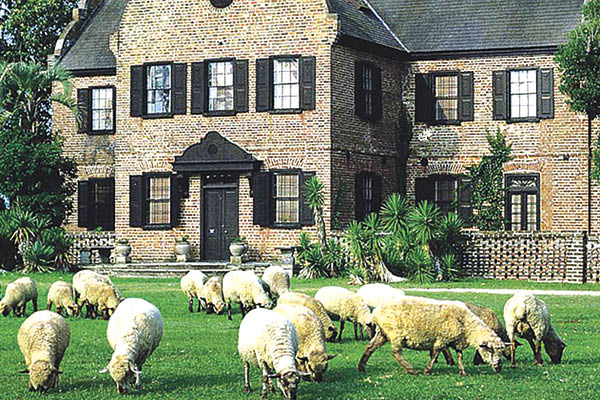 May 3, 2017
From Staff Reports
It's time for a haircut for the Gulf Coast Sheep that roam the Greensward at Middleton Place. On Saturday, May 6 from 10am-3pm, the Plantation Stableyards will be the site of the annual shearing using traditional steel blade hand shears. Costumed interpreters will remove the fleece from the animal; skirt the shorn fleece to remove matted or dirty wool; and role the fleece so it can be sent off for processing.
At Middleton Place, the flock each year will produce approximately 10-15,000 yards of worsted wool. The processed wool is used to make such items as hats, scarves and gloves, while skeins of wool are available for purchase in the Garden Market.
With lambing season now nearly completed, the addition of some new members of the flock offer ample reason to visit. Of course, many visitors come for the history, and there is ample history to be learned as the sheep shearing takes place. For example, the Gulf Coast Sheep breed is one of the oldest in North America. Thought to have descended from Spanish flocks brought by New World explorers beginning in the early 1500s, natural selection over the centuries produced the Gulf Coast Sheep that adapted so well to the heat and humidity of the Low Country. They became the dominant breed in the Deep South, providing both wool and meat – but at today's Middleton Place, only the wool. Today, Gulf Coast Sheep, now quite rare, are one of the most popular attractions at this National Historic Landmark.