2018 Westie Awards
Hail to West Ashley's Renaissance Men & Women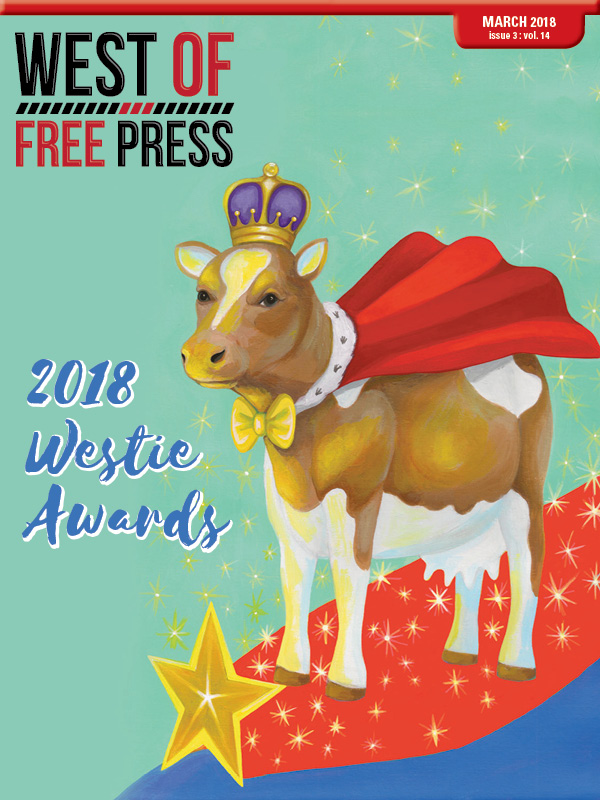 March 6, 2018
From Staff Reports
When discussing West Ashley, the term "revitalization" gets bandied about quite frequently. But our beloved parish is in the midst of something much greater than a revitalization. It's going through a renaissance! This is a cultural rebirth, people. And you can't have renaissance without some renaissance men and women. A renaissance man (or woman) is defined as "a person with many talents or areas of expertise." Not only are the 2018 Westie Award winners folks with many talents, but they embody the spirit of a true renaissance. They're the ones who are helping usher in a cultural rebirth. The next phase of West Ashley. Growth is inevitable. At least it is in Charleston. So rather than shaking our fists at progress, let's get behind those who are helping guide West Ashley to the promised land. The teachers, the coaches, the community leaders, the builders, the architects, the beer makers, the pizza makers, and the volunteers. In 2010 when West Of started handing out Westie Awards to the handful of individuals who go above and beyond the call of duty to make West Ashley a better place, we naturally made the award a golden cow, in honor of our beloved West Ashley landmark, The Coburg Cow. And while Coburg Dairy is no more, the cow still spins (sometimes) keeping an eye on our fair borough. Below her in bold block letters is the old motto of Coburg Dairy: "Better Than It Has To Be." Well, these 16 individuals are better than they have to be. For far too long West Ashley has been promised a better tomorrow. Well … tomorrow is here now. And the 2018 Class of Westie Award winnners, each in their own way, have made our tomorrow better. They are the bringers of a new dawn. And we applaud them for their efforts.  — Lorne Chambers, editor & publisher
Mateo Rapallini
StudioMA Architecture Inc.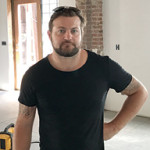 You can't have a renaissance without at least one Italian onboard. Local architect Mateo Rapallini invested everything he had, and then some, into converting a former auto body shop on Magnolia Road into the new home of his contemporary offices, StudioMa. His efforts recently drew national attention from the turtleneck and cappuccino crowd, when his conversion was featured by Dwell magazine. (Ask someone on a vintage bike: they'll gasp.) What had been a rough-and-tumble box where boxy American cars were repainted and had dings removed, has morphed into a building as sleek as the red Alfa Romeo GTV6 he parks outside. Inside, the building is warm and modern, with vaulted ceilings, work nooks, a cappuccino machine in the back lounge, and cool low-slung European furniture casually lying about. Rapallini had tired of drawing cookie-cutter mega-houses for the tony island communities around Charleston. He wanted to work on his own forward-thinking projects, like affordable housing with a modernist twist. So, he went back to his roots. "Me and my wife are from the streets," he says, explaining the decision to locate such an upscale business in such a rough neighborhood as Maryville. He has invited kids from the neighborhood to come by and draw, to learn what it is to be an architect, and that anyone can become one — even an immigrant to this country who served in the U.S. military. And he and his wife Merced want to do more than just connect the high with the more modest. They want to interconnect within the community. Recently, Rapallini, the son of a painter, reached out to the just-displaced owner of Fabulon art gallery on Wappoo. He knew she was looking for a new home, so he offered his. Or a part of his world that's yet to be built. But the underlying connection for Rapallini is this: if we're going to be reborn, we're going to have to do it together.
Susan Simmons and John Hagerty
The Schoolhouse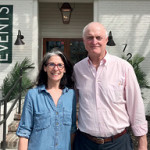 Most people driving by the old Albemarle Elementary School at the corner of Sycamore Avenue and Magnolia Road a few years ago wouldn't see a gleaming business hub. Most people would have seen an aging, neglected building, where in its later uses the elderly went to die in medical beds. Now, The Schoolhouse is bright and lively. Filled with tenants in the early stages of business success, an "indoor neighborhood" sharing a glass enclosed conference room and other amenities in a refurbished building next to a community garden. That kind of transformation takes more than vision, it takes money. How much money? You'd choke. But the result is a slew of office spaces for smaller companies (and for nonprofits like the Charleston Parks Conservancy) located a few blocks from the homes where many of its workers live. "I didn't feel very 'visionary' pulling it apart, and when the expenses were coming in," says Hagerty, who owns a slew of commercial properties in the region. Hagerty's wife, Susan Simmons says what drew her to the building was that the idea that it could fit seamlessly into its surrounding community. So, they decided to keep the halls wide and old handrails for the elderly and the young in place, so that it was a place for everyone. "Where he saw numbers of parking spaces, volume, and proximity to downtown, I saw an opportunity for involvement with tenants coming from the neighborhoods," says Simmons. Now, milled doors with substantial hardware that feels good when you grab it and better when you turn it, opens onto wooden-slat covered hallways. The former auditorium and cafeteria has been transformed into an events space perfect for plays, receptions, and for celebrating the 2018 Westie Award winners.. All because Simmons and Hagerty saw what others couldn't.
Peter Shahid Charleston
Charleston City Council
City Councilman Peter Shahid was supposed to fail. No one thought the freshman councilman was up to the task of leading the West Ashley Revitalization Commission (WARC). It's too big; 19 members. It's too diverse; the developers will run roughshod over him. He's aligned with John Tecklenburg; other councilmen wanting leverage over the mayor won't allow this to happen. He's too new; the job should've gone to a veteran councilman. And yet, WARC members approved the final plan unanimously. As did city Planning. And as did Charleston City Council. Unanimity. In soccer parlance, Shahid scored the rare "hat trick." "Never underestimate the Lebanese," says Shahid, laughing. He is quick to defer glory, saying that it was a community coming together to address a "common good." There are wrinkles, the biggest being that all that has actually been approved was the 47-page executive summary. That means foes of bikes, buses, sidewalks, traffic calming, smart growth and the like can still attack Plan West Ashley on the backside, i.e. during the coming implementation phase. While members of the community openly and publicly tried to get him to fail, Shahid says that no one could argue with the plan because of the existing conditions in West Ashley. West Ashley's greatest foe, traffic, may have been Shahid's most powerful ally. Because everyone who came to WARC meetings, with whatever agenda they might have been carrying in their respective back pockets, had to drive through West Ashley traffic.
Charles Robinson
Neighborhood Volunteer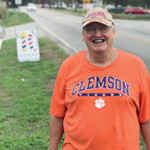 West Ashley resident Barbara Allega knew she needed to nominate Charles Robinson tor a Westie: "Almost every day I drive on Orange Grove Road [and] I always see a man wearing orange picking up litter and trash on both sides of Orange Grove Road. At first, I thought it was someone doing community service hours.  Then I inquired and learned it was Charles Robinson wearing Clemson colors on a personal mission to keep the area where he lives free of litter." Retiree Robinson has spent hours walking from his home off Orange Grove, then up and down Ashley Hall Road since he retired two-and-a-half years ago. He gets plastic bags from a grateful local merchant to store the trash he picks up, and then dumps them off in another supportive merchant's dumpster when they're full. And, yes, Robinson, 68, knows he's making it easy for Gamecock fans to make a joke. But, while he loves the Tigers, there's an ulterior motive to dressing up in bright orange. "That way the cars have a better chance of seeing me," says Robinson, who once saw a car that dodged him fly into a nearby apartment's exterior wall. While it was nice that Mrs. Allega, one of his wife's friends, nominated him, he says his favorite memory was when a group of schoolchildren applauded him while he was picking up trash while they were waiting to catch the bus at the Mary Utsey Playground. Robinson says he started walking when he retired to stay healthy, and then realized it wouldn't be much more effort to pick up the trash he saw on the roadway. He's got spirit, yes, he do! Mr. Robinson's got spirit, how 'bout you?
Waylon Cain
West Ashley Hardware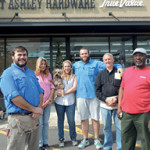 After more than 50 years Charleston Hardware along Wappoo road closed it's doors at the end of 2014, leaving a void in the heart of West Ashley as local DIYers were forced — out of necessity — to make the trek to one of the soulless big box home improvement giants down Glenn McConnell Boulevard. Then, near the end of 2016, when talk of West Ashley revitalization was just starting to reach a fevered pitch, we received a gift. West Ashley Hardware opened on the corner of Wappoo Road and Highway 61, just up from where the old Charleston Hardware sat for more than a half century. West Ashley Hardware's presence in the once moribund Ashley Oaks Plaza has helped give new life to the shopping center and things are now popping up all around, like a new Los Reyes Mexican Restaurant, a gym is slated to move in the large anchor space next door, and Boxcar Betty is set to move into the now-revitalized plaza. Waylon Cain, who also owns and operates the True Value on Edisto Island, saw an opportunity in West Ashley and filled a niche. But merely opening a business isn't what wins you a Westie Award. It's going above and beyond for the community. And Cain and his staff proved that on several occasions. "We stay ahead of the seasonal needs," says Cain. "But we're also quick to react if we have to." Like when Hurricane Irma threatened the region, the West Ashley Hardware crew worked tirelessly unloading extra trucks, staying extra hours, doing anything they could to help West Ashley residents batten down the hatches. Then they did it again during the great Snowpacolypse. "We wouldn't have made it if we didn't have a strong crew," says Cain, who is extremely humble and shies away from personal praise, instead crediting manager Claire Curtis and the rest of his team for the success of the hardware store. "One of the things that I love that we do is that we have daily gatherings around the paint table, we call it the 'operation table,' and we just spitball ideas," says Cain. "As long as we continue to raise the bar in the store, every day we open we want to be better than the day before. That's our mantra."
Victor Dover
Dover, Kohl & Partners
In some ways, Victor Dover was a paid whipping boy. The out-of-towner with the pointy head and nerdy glasses who everybody knew was going to talk down to us. And Dover took his licks, but he kept coming back, doing the last thing his detractors thought he'd ever do. He listened. The urban planner hired to guide the Plan West Ashley listened, and listened. And then he compiled what everyone had said in open public discussions and work sessions. Then he fed it back to us, and we ate it up. Dover, a native of an especially redneck part of Charlotte, has done similar projects all over the country. But he says his West Ashley experience was unique for two reasons. One, traffic is so bad in West Ashley that it served to unify the public. "All walks of life and interests were unified by one topic: their shared distaste, universally, for congestion," he says on the phone on his way to catch a train in his current hometown of Miami. Other issues were important, like "flooding and preserving community character," he says. But no other community he's dealt with were as unified against anything like West Ashley is against traffic.
Christopher "C.J." Macauley
Charleston Kix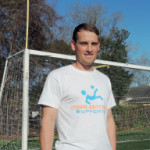 As a coach and educator, Christopher "C.J." Macauley, is committed to helping youth right here in West Ashley, where he lives with his wife and two dogs. Macauley is a middle school teacher at Advanced Studies Magnet in West Ashley, he teaches Secondary Science and Biology. He also is the project lead at the school for the Way Engineering program. But outside the classroom, Macauley has a passion for sports, particularly soccer. He coaches an U-13 team made up of mostly underprivileged children who previously could not afford to play club soccer. "Team sports are crucial to a child's development. When playing a sport, children have the opportunity to show their skills, gain greater self-awareness, enjoy an activity they love, and most importantly build self-confidence," he says. "Sports can teach children how to win and also how to lose, how to respect others, develop relationships, and promote family involvement. Many children don't have the parenting support at home. A coach can provide the mentoring a child needs and this is the most valuable asset a coach can provide." Last year Macauley started a non-profit group called "Charleston Kix," which supplied scholarships for several underprivileged children. He says his goal is to help change the culture in youth soccer by providing a pathway to the highest levels for athletes in the community who may be left behind because of their economic and or social status. Macauley also created an after school soccer program at Advanced Studies Magnet to include and help minorities who may not have had the experience of playing soccer. Additionally, for the past several years he's been a full-time volunteer soccer coach at Academic Magnet High School. "United States Youth Soccer (USYS) has sadly become a 'rich man's' sport, says Macauley. "Realistically, the game is a third-world country sport and there is no reason why it should cost youth players and their families this much money." Some youth soccer clubs in our area can exceed $1,500 for just one season, $3,000 a year. Being a teacher in this community Macauley sees too many kids not being exposed to the game because it's too expensive. "My goal has been to close that financial gap and get more youth playing the game that normally couldn't afford it," says Macauley. "I want soccer in the community to grow and to see young ones I help now, playing in high school and maybe higher." Macauley also is a coach for Charleston United Soccer Club in West Ashley and has taken a mostly new U-19 team to State cup two years in a row, going undefeated last season. "He's dedicated and passionate about the game he grew up playing and definitely has made an impact in the West Ashley soccer community," says Stephen Wakeha, Charleston United founder. "The most rewarding thing for me is when I can reach a child and he can open up to me, talk about his day and forget about everything going on at home while he has a ball at his feet, says Macauley. "Whether they are my high school athletes or a youth club, when they are learning the game and also smiling and excited to step onto the soccer field, that is how I measure my achievement as a coach."
Justin Slotnick & Adam Goodwin
Charles Towne Fermentory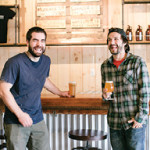 Founder and head brewer Adam Goodwin has the pedigree, the knowledge, and passion to make great beers, like the wildly popular New England-style hazy IPA Sungazer and the great Pale Ale Mars Express (if the mango version is on tap, get it!). Prior to starting West Ashley's first brewery, Goodwin worked at revered Boston brewery Trillium Brewing Co., Tired Hands Brewing Co. in Philadelphia, and Cisco Brewers in Nantucket. While other breweries in town are busy trying to get on as many taps and in as many markets as possible, Goodwin and assistant brewer Justin Slotnick have a sense of place and a sense of community. Their refuse to sacrifice quality for quantity is evident in every sip. They see Charles Towne Fermentory as more than just a place to get great beer. They see it as a neighborhood brewery. Goodwin harkens back to a time when breweries serviced one town or one part of town. He and Slotnick see the rebirth of America's craft brewery movement as a throwback to those days. "Charles Towne (Fermentory) is a way to connect us to the locality and the history of where we are," he says. And while Goodwin loves to see people from all over Charleston and tourists stopping by, he primarily wants CTF to be the brewery for the surrounding neighborhoods — Byrnes Downs, Moreland, Avondale, West Oak Forest, and South Windermere. And a couple months ago, when Charleston shut down as it was buried in a winter wonderland, leave it to two guys from New England to personally trudge through ice and snow and open the brewery for stir crazy folks who could walk to CTF and get a beer. In addition to creating an amazing brewery, CTF is also a revolving restaurant, bringing some of the most interesting places to eat in Charleston right here to West Ashley in their "visiting chef" kitchen. Any day of the week, West Ashley can now have a legit pop-up Spanish restaurant with The Castejóns, famous lobster rolls from 167 Raw, critically acclaimed ramen bowls from 2 Nixons, a delicious Mexican brunch from Desayuno, Puerto Rican food from Marzen, and many other unique offerings.
Mary Vogel
Bon Secours St. Francis Hospital
Mary Vogel started volunteering at Bon Secours St. Francis Hospital when it was still downtown Charleston over 20 years ago. Since then, she has volunteered more than 1,300 hours serving weekly now as a hostess in the West Ashley hospital's operating room waiting room where families wait for their loved ones. Vogel assists families from far and wide who have come to the West Ashley hospital for their surgery. She offers coffee, a book from the lending library, updates on surgical patients and an empathetic ear as well as assisting the medical staff. "Mary has a talent for energizing any group she is part of and rallies groups for social events and holiday festivities," says Joan Perry, director of volunteers at Roper St. Francis Healthcare and former Westie Award-winner. Aside from her volunteer work at the hospital, Vogel is also a committee member for the MacLaural Hall Homeowners Association where she lives. Even with her busy volunteer and community service schedule, Vogel still finds time to take advantage of all West Ashley has to offer. Vogel takes yoga classes twice a week at the Roper St. Francis West Ashley Cancer Center and walks along the Ashley River Road bikeway five days a week.
Richard Davis
Trademark Properties, Citadel Mall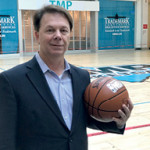 Somewhere past rebirth, on the far side of vision lies another quality. Some call it madness, others, faith. Others fantasy. Well, Richard Davis fantasized on a whole different level. And he has the faith to make fantasies reality No one nationally has been able to solve the conundrum of a dead suburban mall. First, they are bustling with new business. Then they stabilize, and its anchor stores are the only things keeping them from going adrift. Finally, national stores are replaced by massage kiosks, baseball hats, and golden chain retailers. Then, death. A little more than a year after buying the mall out of arrears, it is still far too soon to know if Davis's plan for revitalizing Citadel Mall will work. His dream of turning it into a multi-use facility plods on, slowed by anchors not ready to let go. Davis still buys in. And there are some early, positive signs. One anchor has sold out to him to make way for a new MUSC hospital to compete here in West Ashley with Roper St. Francis. Tattooed Moose, already a success downtown and on Johns Island, is moving into a space relinquished by a receding local restaurant group. Sometime in the first half of next year, Davis says he will reveal to the city the 25-year plan he has for the mall. Davis: "We've got a plan. It is a very strategic plan. We're not 'hoping' for anything. We know what we are doing and we are doing it. We are just not sharing it. Yet." Until then, everyone has to have what Davis has: Faith.
Brantley Moody
Charleston County Council
For a while there, there seemed to be no bigger obstacle to creating bike and pedestrian access across the Ashley River into downtown than County Councilman Brantley Moody. Moody was pilloried by the Subaru and cycling crowd for fighting against a dedicated biking and walking lane on the Thomas Legare Bridge. He still hates the idea of taking a lane away from cars, especially during rush hour. But, Moody surprised everyone when he came up with a $3-million promise from County Council for the construction of a separate and free-standing bike and footbridge to cross the Ashley parallel to the Legare. Moody's move created a win-win: many of his supporters in the northern reaches of the county could still count on more lanes in their morning commute over the Ashley River, and those who champion alternate modes of transportation will still have something to dream about and fight for. Now, there's more to that project. Like the city and private organizations having to come up with tens of millions of dollars in additional funding to complete the rest of it. So that promise may never get called. But it showed that Moody was flexible, which is a valuable trait on a notoriously political body. His flexibility and ability to work with warring factions has helped smooth over early problems at the county's recycling center project in North Charleston. And why is a North Charleston project important to West Ashley? Because if that recycling center weren't to become fully operational, there would be a good chance that our taxes would go up, the environment would be harmed, and the Bees Ferry dump could get overloaded.
Mark Slater and Nick Skover
Paisano's Pizza Grill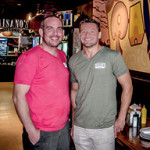 Paisano's Pizza Grill owners Mark Slater and Nick Skover believe that a strong community is built around everyday hard work and involvement with the people you encounter everyday. And good food of course! "The way to contribute to your world and the community is by being locally responsible for the nourishment and success of those people around you," says Skover. Through their everyday local support of schools, their neighbors, and every West Ashley residents, Slater and Skover are making a stronger West Ashley community everyday. Since the day they opened their first restaurant on James Island, Slater and Skover have always been involved in the community. When they opened in West Ashley a few years ago, they adopted that same philosophy. They started with schools and churches. Randomly showing up with free pizzas and then giving huge discounts for sporting events and church functions. "We have sponsored everything from rec league teams to yearbook committee to Miss Teen South Carolina," says Skover. "Then we looked for other areas we could help and found our fist big project which was helping fund The Smalls Institute for Music and Youth Leadership, a local non-profit that helps low-income youths have access to music lessons." This eventually led to sponsoring West Of's Student of the Month Award and scholarships for entrepreneurial achievement. "One of the main reasons we have made it a point to give back so much to the schools is because they really need help," says Skover. "We have a number of personal relationships with local teachers and they end up spending their own money for classroom projects and supplies because the school cannot afford to supply them." So Paisano's has also partnered with The Teachers Supply Closet to do spirit nights and make donations to help local teachers get what they need. "Not only does it help provide things to the schools need, it feels really good to help out the community that provides us with so much," says Skover.
Vic Rawl
Charleston County Council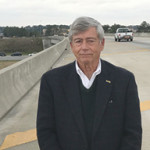 "I got one of these before; what did I get a Westie for this year? Breathing?" snipes Charleston County Council Chairman Vic Rawl. No, Judge Rawl, you did not get another Westie "just" for breathing. Though, it would have been harder for you to stay chairman for another year, or continue to fight for Interstate 526 expansion and completion, if you weren't still breathing. With Rawl at the helm of County Council, 526 stays on the front-burner. The chairman before him was privately lukewarm on the idea. Of course, he was from North Charleston and wasn't as invested in West Ashley's future as its resident Rawl is. Rawl is less than interested about what he did to get this Westie, and is more focused about what still needs to be done. "Right now, we are waiting for the state's highway department to complete its (526) permitting application process and have it sent off to the feds," says Rawl. As such, the former judge doesn't want to talk too much about the fight to complete the inner-loop for fear of getting entangled in some sort of power struggle. Rawl will say, however, that he expects the county and the state to become involved in some sort of litigation, but not in an adversarial sense. He says both sides will want guidance from a court as how best to proceed. Next up, Rawl says, is a mid-month meeting with state officials to discuss widening 526 at its terminus with Savannah Highway. Leading from the front, Rawl says the county remains committed to finishing I-526, and "will do more if we need to do more."